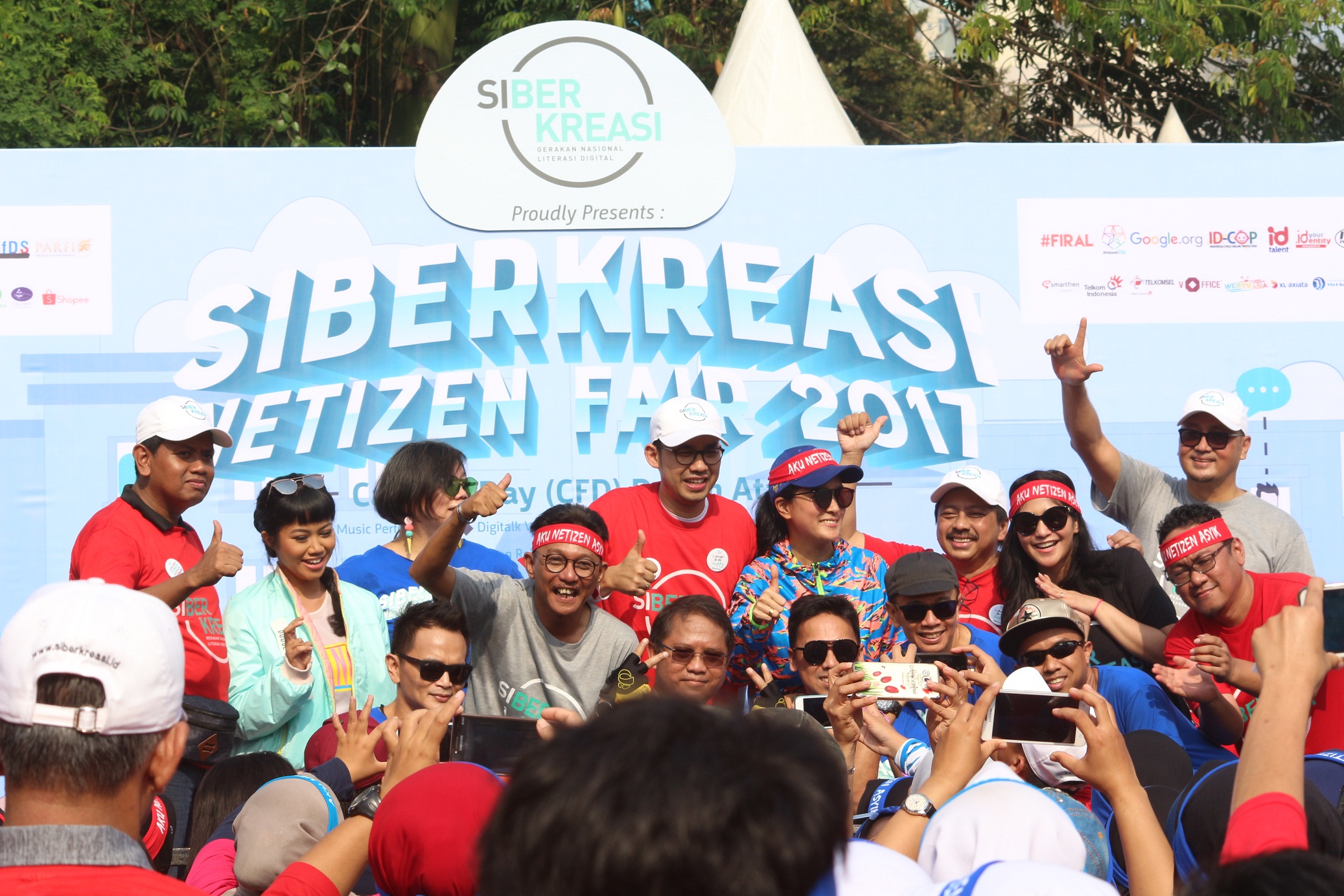 [PRESS RELEASE] Siberkreasi Weekend Campaign for Indonesia Digital Literacy
November 21, 2017 9:58 am || By admin
Since its first launch on October 2, 2017, Siberkreasi National Digital Literacy Movement has performed several activities and also carried out a series of events. A series of events are being held to further publicize the importance of digital literacy in the present. Siberkreasi entitled Netizen Fair 2017, this event invites the active participation of netizens Indonesia to surf and social media in a good and positive.
On 27 – 28 October 2017, Siberkreasi opened a series of Siberkreasi Netizen Fair 2017 events with seminars and workshops held at JIEXPO Kemayoran Jakarta. Furthermore, Siberkreasi features several public figures, such as Cameo Project, Nidji, Mocca, Anji, Prilly Latuconsina, Marcella Zalianty, Ria Ricis, Edho Zell, and others.
Siberkreasi appears at first from the anxiety of various elements of civil society againts the great threat of potential dangers of spreading negative content in the media and social media. It would be getting worse if it is not managed properly. All negative content such as hoaxes, hate speech, cyberbullying, and online radicalism is potentially consumed by internet users who 80% of them young people aged between 10 – 29 years and 30 million of them are children.
"The need for digital literacy in Indonesia is very urgent and can not be postponed again. This effort can only be effective if done in a massive, systematic, and synergistic way. Siberkreasi is present to facilitate joint work of all components. So, the key is 'working together'," said Dedy Permadi, Charid of the Siberkreasi Movement.
To encounter the spread of positive content in popular form, Siberkreasi Netizen Fair also held Indonesia Netizen Awards. The annual awards will appreciate young creators with works that are considered to bring positive spirit. The jury of this award comes from digital practitioners and creative world actors.
Netizen Faird 2017 followed by a campaign and festival event at Car Free Day, Dukuh Atas, Jakarta on November 5th 2017. Netizen Fair this time enlivened by musical performances and Netizen Asyik Indonesia campaign with influencers. In the morning, this event begun by a joint cycling activity from National Museum area to Car Free Day area followed by Minister of Communications and Informatics, Rudiantara; Director General of Aptika Kominfo, Samuel A. Pangerapan, and Chairman of the Indonesian Broadcasting Commission, Yuliandre Darwis; Chairmand of the Association of Indonesian Telecommunications Providers (ATSI), Merza Fachys; as well as representatives of institutions, corporations, and communities supporting Siberkreasi movement. Vice Governor of DKI Jakarta, Sandiaga Uno also took the time to present and give a message to the younger generation to participate in fighting false news.
At the peak of Siberkreasi Netizen Fair 2017, Siberkreasi National Digital Literacy Movement was officially launched. Supporters of the movement together broke balloons as a symbol of banning negative content, such as hoaxes, piracy, cyberbullying, and others as a symbol of commitment to combat negative content in cyberspace.