[Terms of Reference] Capacity Building on Interdisciplinary Cybersecurity Training
March 26, 2021 3:17 pm || By admin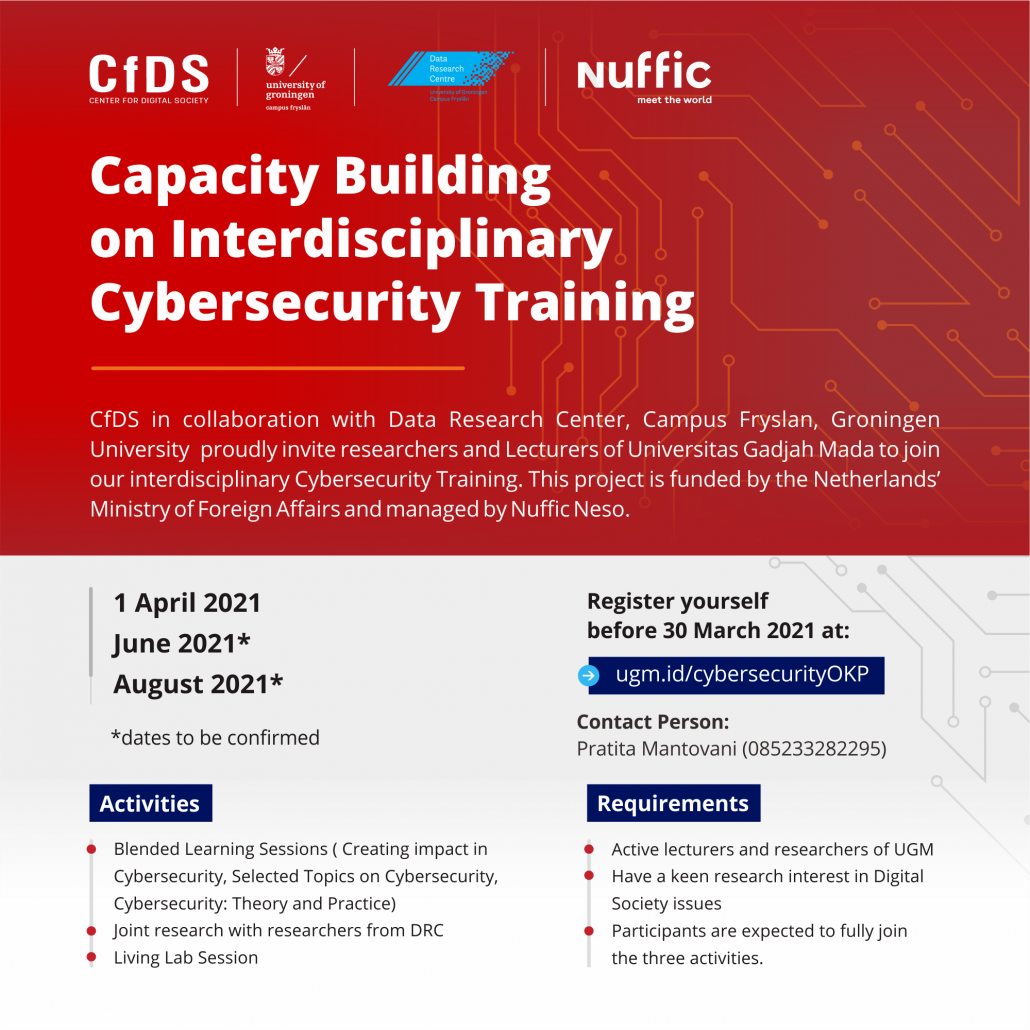 Center for Digital Society (CfDS) at Universitas Gadjah Mada (UGM) focuses on digital issues, particularly cybersecurity topics in Indonesia. Established under the Faculty of Social and Political Sciences in UGM (FISIPOL), CfDS carries out research and advocacy. We address cybersecurity in Indonesia to create: a) policy recommendations for the government and b) enhance digital literacy for the general public. We have experience in collaboration with several key stakeholders in Indonesia, namely the Indonesian Ministry of Communication & Informatics (KOMINFO RI), the National Cyber and Crypto Agency (BSSN), the Cybercrime Division of Indonesian National Police, and the Indonesian Cybersecurity Forum (ICSF). We have also organized events, such as the 'Convention on Cybersecurity 2018' in partnership with ICSF, to raise public awareness about cybersecurity.
Following up on such activities and discussions, we have found that Indonesia needs qualified professionals who understand this complex field. Although the rapid digitalization that Indonesia has experienced over the last decade bears the considerable potential for economic development, risks and challenges need to be mitigated. To achieve this, we see an essential role for higher education institutions, which could develop their capacities to train cybersecurity experts capable of addressing technology-related challenges and being aware of cybersecurity's ethical, legal, and social aspects.
The interdisciplinary study integrates knowledge and methods from different disciplines using a real synthesis of approaches. As noted, such an approach is very much applicable in cybersecurity training, which targets a diverse set of students from various disciplinary backgrounds. Because there will be cross-sharing of information and practices between different disciplines, students can gain a more meaningful learning experience. It is expected that students who follow this study program will have the knowledge and skills that are needed to tackle the multifaceted challenges of cybersecurity.
To realize this vision, CfDS proposes cooperating with the Data Research Centre (DRC) of Campus Fryslân (CF), the interdisciplinary faculty of the University of Groningen. Together, we propose establishing a joint higher education course on cybersecurity, which has the objectives of raising awareness and developing the capacity to address cybersecurity-related opportunities and challenges. Besides, we aim to provide cybersecurity training to teaching staff and researchers from Universitas Gadjah Mada. Such training is designed to cover interdisciplinary topics related to cybersecurity and understand the dynamics of interdisciplinary teams and interdisciplinary teaching. There will be a set of activities which are included in this activities: a) Blended Learning Sessions, b) Joint research, c) Living Lab Session.
Detailed Event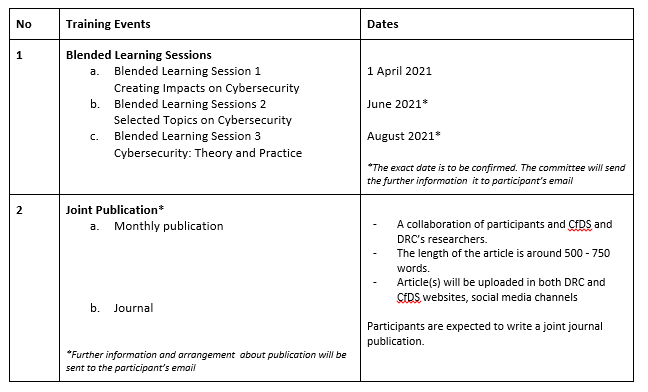 Blended Learning Session I
Topic : Creating Impact in Cybersecurity
Date : 1 April 2021
Room : Zoom Virtual Meeting. Link to be disseminated to participants' email.
Language : English
13:00 – 13:45 = Introduction and Tour de Table
13:45 – 14:00 = Break
14:00 – 14:45 = Curriculum Design to create Impact in Cybersecurity (Dr. Oskar Gstrein)
14:45 – 15:00 = Discussion
15:00 – 15:15 = Break
15:15 – 16:00 = Engaging stakeholders to create Impact in Cybersecurity (Anno Bunnik, MA)
16:00 – 16:15 = Discussion