"Spill the Tea" Phenomenon: Gilang Bungkus Case
April 30, 2021 1:00 pm || By admin
In the contemporary world, our lives cannot be separated from social media. We update our daily life on many platforms such as Twitter, Instagram, and Facebook. Social media makes it easier for people to share stories. For this reason, some people start posting about their private life in order to seek other people's attention, help, or just to share information. One of the stories that always gains many attention is about sexual assault or sexual harassment. Rather than reporting it to the police, people choose to write about the case on social media. Some of the stories gain much attention, which in turn can trigger more victims to speak up, gain publicity from national news, and/or lead the law enforcement to process the case. The decision to share a story which contains rumor, news, or personal experience is called 'spill(ing) the tea'. Someone would 'spill their tea' by creating a long thread on Twitter in order to attract public attention.
This study aims to analyze how key opinion leaders (KOLs) build the discussion about sexual harassment. It will specifically focus on the Gilang Bungkus case. Gilang Bungkus was first mentioned in a Twitter thread by @m_fikris, who claimed to be a victim of Gilang Aprilian—a former Airlangga University student who sexually assaulted multiple people. The name "Gilang Bungkus" was coined because he was 'wrapped' (trans: bungkus) his victims to carry out his assault. The case gained national coverage and Gilang was sentenced to jail for 5.5 years (Losana, 2020). The action which was done by @m_fikris can be considered as 'spilling the tea'.
The research began with data scraping on Twitter from 29 July 2020 until 15 August 2020, with keywords: 'Gilang bungkus', 'kain jarik', 'speak up', 'trauma', 'fetish', 'bungkus', 'predator', and 'kekerasan seksual'. We successfully collected a total of 40,596 tweets. After collecting the data, we identified the KOLs by using social network analysis (SNA). Meanwhile, to identify the sentiment of the netizen's tweets, we used the pretrained IndoBERT model (Willie et al., 2020) which has been fine tuned with a labelled dataset from a research by Purwarianti and Crisdayanti (2019).
Social Network Analysis
Graph 1. Social Network Analysis of Gilang Bungkus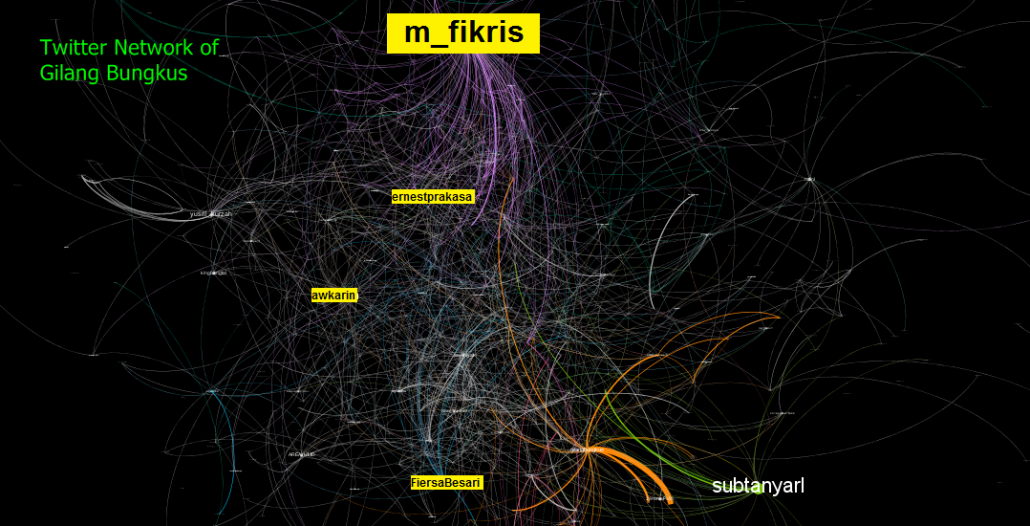 Key opinion leader (KOL) is defined as someone who has the ability to contribute information and lead others in disseminating information. In the old times, an opinion leader is someone who has greater access to information and passes it on to others. However, the growth of social media makes opinion leaders have the ability to produce their own information (Xu et al., 2014, 1279-1280). Meanwhile, Bakshy defined Twitter influencers as individuals who disproportionately impact the spread of information or some related behavior of interest. They are capable of influencing very different numbers of people, but may also exert quite different types of influence on them and even transmit influence through different media (Bakshy et al., 2011, 66).
If we look at the SNA graph, @m_fikris is not the only influencer on the Gilang Bungkus case. We can see that there are three additional accounts with high numbers of engagements in this topic, which are @awkarin, @ernestprakasa, and @FiersaBesari. They are considered as KOLs because they have generated various discussions within the topic and raised the awareness of the netizens. All of them also have different backgrounds and types of followers, which is also reflected in their tweets.
@awkarin (Karin Novilda) is a Gen Z influencer and a content creator who gained many followers on Instagram and Twitter. Karin often talks about viral issues on her page, which also includes sexual harassment. In the Gilang Bungkus case, Karin criticized Gilang for his action and even mentioned wanting to bring the Gilang case to the court.
Karin also replied to Babe Cabita's tweet (a comedian) to criticize her for making jokes about the case because it is insensitive to the victims. However, many of the replies told Karin to not take the tweet seriously because "it's just a joke".
The next KOL is @ernestprakasa (Ernest Prakasa), a comedian and a filmmaker. Ernest sometimes talks about social and political issues on Twitter. His name became a trending topic because @m_fikris put Ernest's selfie with Gilang on his thread. Being aware of the effects that the photo might cause, Ernest chose to stand with the victim and criticized Gilang. He was also aware of his position as a KOL, so he decided to retweet the thread and spread the information about Gilang.
The third one is, @FiersaBesari (Fiersa Besari), a singer and an emerging poet. Different from Ernest and Karin, Fiersa's tweets tend to use Gilang Bungkus as a joke. As we can read from his tweets, Fiersa helped popularize the cheek-in-tongue use of the word 'bungkus,' which is affiliated with Gilang's case.
Sentiment Analysis
Graph 2. Sentiment Analysis of Gilang Bungkus
The next thing we want to know is the sentiment in Gilang Bungkus case. Graph 2 shows the percentage of positive (9.2%), negative (55.4%), and neutral (35.3%) tweets. Therefore, we can see that the conversation about Gilang Bungkus on Twitter is dominated by negative comments.
Most tweets with negative sentiment tend to criticize Gilang as a perpetrator. Some of the tweets wished death on Gilang and showed disbelief in his behavior. The behaviour mentioned in the tweets is not just about the sexual harassment but also about the way Gilang wanted to be respected by his victim.
The positive tweets tend to cheer up the victim and hope the victim could deal with the trauma. Some users were also concerned with how the victim's decision to "spill the tea" might take a toll on their mental health. They also thanked the victims for speaking out.
Tweets with neutral sentiment come from netizens who were using 'Gilang' and 'Bungkus' as a joke. From these tweets, we can see that people started using the word 'bungkus,' not in its literal meaning, but as a word affiliated with Gilang. 'Bungkus' (trans: wrap) in Kamus Besar Bahasa Indonesia (Great Dictionary of the Indonesian Language) is defined as an object to cover something or an act to wrap something. In the Gilang Bungkus case, the meaning of 'bungkus' was linked to Gilang's act of doing 'bondage' to his victims. During this data collection period, many netizens tend to use the word 'bungkus' as a joke while referring to the Gilang Bungkus case. One of the jokes came from Fiersa, who was mentioned earlier as one of the KOLs.
Conclusion
KOLs play an important role in Gilang Bungkus case. @m_fikris thread got boosted because KOLs such as @awkarin, @ernestprakasa, and @fiersabesari also took part to talk about the issue with their own language and concern. The maneuvers from the KOLs spread more awareness and made the case important, which resulted in Gilang being expelled from the university and also sentenced to jail. From the Gilang Bungkus case, we can see that in some cases, "spilling the tea" helps the victim to gain justice. The sentiment analysis shows us how the Gilang Bungkus issue is being responded by the netizens. The majority of netizens got upset and condemned Gilang as a perpetrator. However, some people also found Gilang Bungkus is not more than a joke, so they started using 'bungkus' as a word to make a new joke. Meanwhile, there are fewer people who were aware of the victim's condition and praised the courage of the victims. This means, in Gilang Bungkus case, netizens tend to focus on Gilang as a perpetrator and the 'bondage' method that he used, which was considered as a new phenomenon in sexual harassment, instead of being concerned about the victims.
Author: Olivia Prastiti
Data collection: Nadia Elaesiana
Editor: Josia Paska Darmawan
---
Bibliography
Bakshy, E., Mason, W. A., Hofman, J. M., & Watts, D. J. (2011). Everyone's an Influencer: Quantifying Influence on Twitter. Association for Computing Machinery. 10.1145/1935826.1935845
Losana, N. (2020, August 1). Surabaya Student Investigated for so-called 'sexual mummification' of Multiple Victim. The Jakarta Post. https://www.thejakartapost.com/news/2020/07/31/surabaya-student-investigated-for-so-called-sexual-mummification-of-multiple-victims.html
Purwarianti, A., & Crisdayanti, I. A. P. A. (2019). Improving Bi-LSTM Performance for Indonesian Sentiment Analysis Using Paragraph Vector [International Conference of Advanced Informatics: Concepts, Theory and Applications (ICAICTA)]. IEEE. 10.1109/ICAICTA.2019.8904199
https://arxiv.org/ftp/arxiv/papers/2009/2009.05720.pdf
Willie, B., Vincentio, K., Winata, G. I., Cahyawijaya, S., Li, X., Lim, Z. Y., Soleman, S., Mahendra, R., Fung, P., Bahar, S., & Purwarianti, A. (2020, December). IndoNLU: Benchmark and Resources for Evaluating Indonesian Natural Language Understanding [Proceedings of the 1st Conference of the Asia-Pacific Chapter of the Association for Computational Linguistics and the 10th International Joint Conference on Natural Language Processing]. Association for Computational Linguistics. https://www.aclweb.org/anthology/2020.aacl-main.85.pdf
Xu, W. W., Sang, Y., Blasiola, S., & Park, H. W. (2014). Predicting Opinion Leaders in Twitter Activism Networks: The Case of the Wisconsin Recall Electio. American Behavioral Scientist, 58(10), 1293. 10.1177/0002764214527091