[Press Release] Reflection Session 1 Tailor-Made Training+ (TMT+) Orange Knowledge Programme by CfDS UGM & Data Research Centre (DRC) University of Groningen/Campus Fryslân
June 2, 2021 1:00 pm || By admin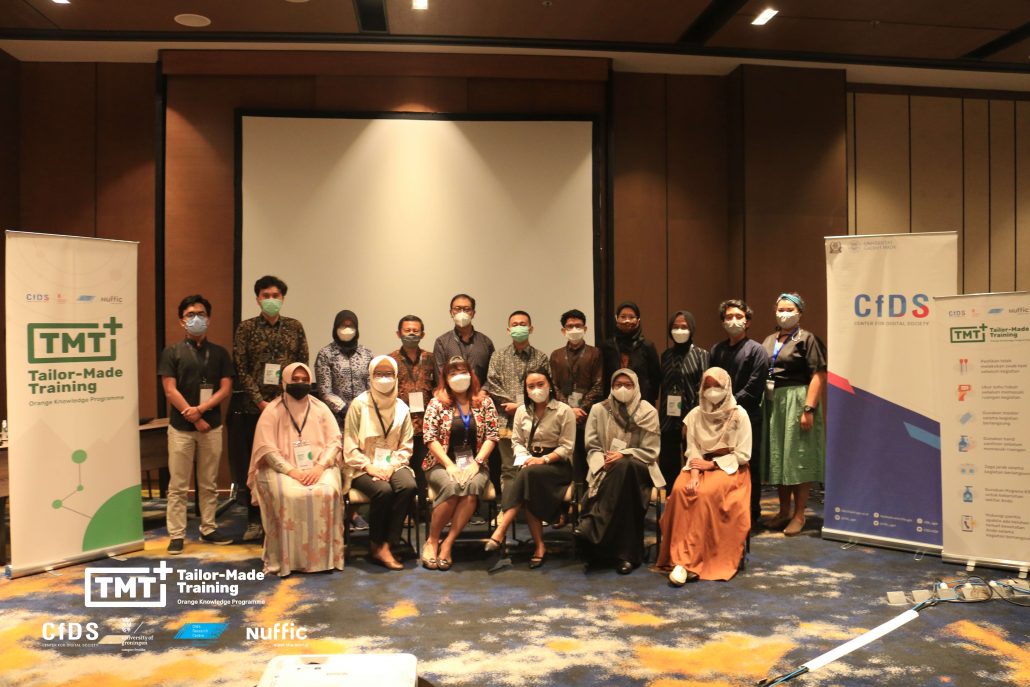 A joint higher education course on cybersecurity by Center for Digital Society (CfDS) UGM and Data Research Centre (DRC), Campus Fryslân/University of Groningen called Tailor-Made Training+ (TMT+) Orange Knowledge Programme on the theme "Enhancing Higher Education Capacity for an Inter-disciplinary Cybersecurity Study Program" granted by Nuffic Orange Knowledge Programme is being held for teaching staffs and professionals to build their capacity regarding cybersecurity through multidisciplinary point of views.
As one of its events, CfDS and DRC held a Reflection Session for the previous events on Friday, May 28th 2021. The event was carried out hybridly, where the online session was held through Zoom virtual meeting while the offline session was held at Marriott Hotel Yogyakarta (13.30 – 16.00 GMT UTC+7). The COVID-19 health protocols was ensured in the event where the participants and committees underwent rapid antigen test in different room prior the session. The session was hosted by Anisa Pratita Mantovani (Research Manager of CfDS) as the MC and the discussion was moderated Annisa Wiharani (Adjunct Researcher of CfDS) as the moderator.
Diah Angendari, the Executive Secretary of CfDS, opened the session by welcoming the participants both offline and online. Then, it was continued with greetings from DRC representatives, Dr. Oscar J. Gstrein, Amaranta Luna Arteaga, and Tais Blauth through Zoom virtual meeting. CfDS invited Prof. Ir. Achmad Djunaedi, MURP., Ph.D., the Research Advisor of CfDS, to trigger the discussion for the Reflection Session.
The Multidisciplinary Character of Cybersecurity
The technology advancement has arrived to the point where it developed a new digital world called the cyber space. Like the real space, the cyber space is also responsible for to accommodate every aspect in life and activities such as social, economy, culture, politic, etc. Unfortunately, cyber space hasn't been managed with set of regulations and supported by society's literacy regarding the space itself. Until now, the cyber space hasn't yet been governed like the real space. "Cyber space can be seen as the wilderness where exploration and governance don't exist yet. Thus, there are still threats and crimes going around, unable to be traced and investigated", said Prof. Djunaedi.
On his presentation, Prof. Djunaedi emphasized the need to create multidisciplinary collaborations from various stakeholders to keep track with the fast-advanced technology. While the government draft policy to regulate cyber space, other stakeholders from various industries and education institutions should also provide innovations and contribute in educating the society on cybersecurity. "Just like COVID-19 outbreak, even if the main aspect of this phenomenon are medical and health, we can't deny how COVID-19 affected aspects beyond that, such as socio-economic and politic in every nation. That's how it goes for cybersecurity, too. The aspects impacted are beyond the technology itself", Prof. Djunaedi explained.
According to The Organisation for Economic Co-operation and Development (OECD), there are nine principles that need to be adhered to support the enhancement of cybersecurity namely (i) awareness, (ii) responsibility, (iii) response, (iv) risk assessment, (v) security design and implementation, (vi) security management, (vii) reassessment, (viii), ethics, and (ix) democracy. These principles involves the policy, organisational, technology, and society aspects which shows how multidisciplinary is needed in cybersecurity enhancement.
Regulating Indonesia's Cyber Space
Discussion on cybersecurity enhancement is almost impossible to not talking about the public policy and set of regulations that can encourage the society to do activities in cyber space comfortably. In Indonesia, the government has been in constant effort to accommodate cyber space through its policies. The establishment of National Cyber and Crypto Agency along with few policies that becomes the fundament of Indonesia's cybersecurity such as Electronic Information and Transactions Act No. 11/2008 and Government Regulations for The Organizer of The System and Electronic Transaction No. 82/2012. Even so, the implementation of cybersecurity policies ignites debates in society. In one side, the people support the implementation of the regulation, since it is needed for the government to take action against cyber threats and cyber crimes. On another side, the people also criticize that regulating cyber space might also means limiting Indonesian's freedom of speech and expression.
In the discussion session, Haekal Al Asyari,. S.H., LL.M from Department of International Law Faculty of Law UGM explained that nations with strong cybersecurity are backed with strong societal values, too. Meanwhile, in the case of Indonesia, it seems like societal values are skipped in the process of policy-making on cybersecurity. "The approach and the policy's direction of our nation are still unclear. Indonesia should positioned themselves in global environment and determine its policy's direction along with its technology development", he explained.
Arindha Nityasari from the Institute of International Studies UGM joined the discussion by questioning the effectivity of government in managing and regulating cyber space since the cyber space itself is transnational. This also trigger another question on who is actually responsible of cyber space when the government can't manage it and whether the power will slowly owned by the information technology industries.
Society as The Pillar of Cybersecurity
Apart from policies, public understanding and awareness are also the main pillars in supporting cybersecurity in Indonesia. Dr. Wing Wahyu Winarno, S.E., Ak., M.A.F.I.S., C.A. from STIE YKPN Yogyakarta explained that there must be massive cybersecurity-related education for the Indonesian, start from the smallest thing such as password management. Ir. Paulus Insap Santosa, M.Sc., Ph.D., IPU from the Department of Electrical Engineering and Information Technology UGM added that community obedience in respecting the privacy of others and maintaining each other's privacy are the main foundation of strong cybersecurity of a nation. Thus, the government's approach should emphasize in increasing public compliance with privacy both in the real space and in cyber space.
The discussion continued with more participation of several participants who also gave their responses, both offline and online. The discussion session was closed by the moderator and MC and ended with a group photo.
For more information about the project and its implementation or the partner institution, please contact us through CfDS (cfds.fisiplol@ugm.ac.id), or Ruth Tarullyna Simanjuntak (ruth.t.s@ugm.ac.id).