How People on Instagram Tell Us about Variants of COVID-19
August 18, 2021 10:40 am || By admin
Based on the information from WHO, there are new variants of COVID-19 mutation which cause the growth of COVID-19 cases day by day. WHO mentioned there are several new names for the variants: Alpha, Beta, Gamma, Delta, Eta, Iota, Kappa, and Lambda. Social media then becomes a place where health information has been shared. Research found that 90% of individuals aged 18-30 search for health information on the internet including social media. However, this generation is struggling to differentiate between reliable and unreliable information (Meleo-Erwin et al., 2021, 111).
The netizens' reaction over the variants of COVID-19 can be seen on Instagram posts made by online mass media. Online mass media has become an important actor in spreading knowledge about the viruses, but the posts are filled with negative comments. Unclear messages on online platforms may increase misinformation and potentially cause users to misunderstand health risks. Believing in conspiracy theories and other authority-questioning beliefs may lead to decreased compliance with public health recommendations such as physical distancing and mask wearing (Quinn et al., 2020, 4).
This study will discuss netizens' response about COVID-19 variants on five posts from the official Instagram account of online mass media. The big engagement with the information in social media makes it possible for us to identify people's thoughts, attitudes, feelings, and concerns about the pandemic COVID-19 based on their comments. Misinformation about COVID-19 is an important thing to help flatten the curve of cases (Niknam et al., 2021, 165).
How Our Online Mass Media Frame the New Variants of COVID-19
Before analyzing the comment sections, this research will examine one Instagram post which contains the new variants of COVID-19 from five online mass media. Narasi Newsroom, Tempo.co, Kumparan, IDNTimes, and CNN Indonesia have a huge number of followers and are known for providing actual information. Five of them have different ways of portraying the information.
Narasi Newsroom post: List of New COVID-19 Variants: Several Variants Found in Indonesia
As usual, Narasi Newsroom makes a content curation for variants of COVID-19. Cited from WHO, Narasi posted the lists of COVID-19 variants on June 16 2021. They mentioned the names of the variant and the way it mutated. They also claimed and warned people that some of the virus had come to Indonesia. It also cited the Health Minister, Budi Gunadi Sadikin, and Indonesian Public Health Expert Association (IAKMI) chairman, Ede Surya Darmawan, who confirmed the new variants. They did not mention the symptom or how to mitigate it. The goal from the content is to give baseline knowledge about COVID-19 variants.
Tempo.co: Beware the Delta Variant of Coronavirus, Fast Contagious and Easily Drop Immune Response
CNN Indonesia: Get to Know about Delta Variant of Coronavirus from India
Tempo chose to focus on the Delta variant and its effects on human immune systems. They posted on June 18 2021 and believed the virus had mutated in Kudus, citing their interview with Gunadi, the Chairman of the Working Team (Pokja) from the Faculty of Medicine, Public Health, and Nursing Gadjah Mada University. Gunadi described Kudus as a new cluster because of Delta variant transmission. The other online mass media who has close similarity with Tempo is CNN Indonesia. CNN Indonesia also focused their information on Delta variant, its history, the symptoms, and the interview with Gunadi. In addition, CNN Indonesia described how the Delta variant affected people who had been vaccinated.
Kumparan: 5 Symptoms of Delta Variant Coronavirus from India.
Kumparan simply conveyed the information to the readers with an infographic about the symptoms of Delta variant. Posted on June 18, 2021, Kumparan wrote that the virus has mutated in 74 countries including Indonesia and has up to 2,61 higher risks than the first virus. The purpose of this content is to inform people about the symptoms and raise their awareness.
The most different content amongst these five media comes from IDNTimes, which was posted on June 26 2021. IDNTimes used a meme of a boy crying as he is surrounded by dinosaur figures. The dinosaur figures represent COVID-19 variants, namely Lambda, Gamma, Alpha, Beta, and Delta. Meanwhile, the kid represents "us", the human who is scared of the variants. The caption just reminds us about the health protocol. Concluding this, IDNTimes tried to bring awareness in a different way to attract the netizens.
The Classification of Response Towards the Posts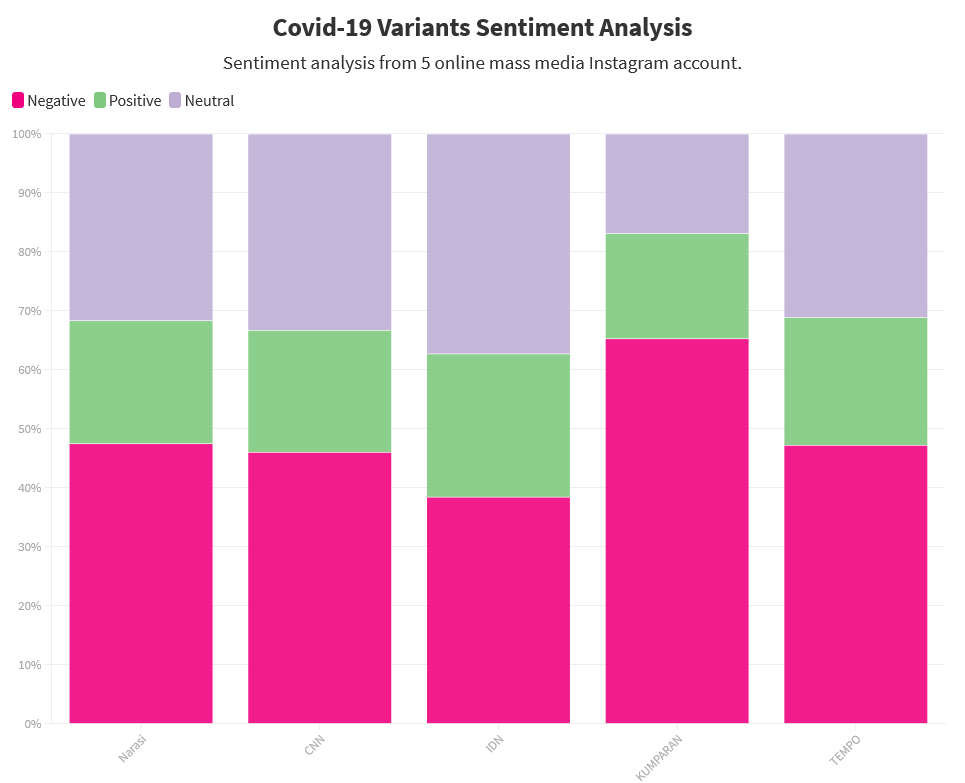 This research then examines the comment section and found several things. It is found that most of the top comments–set based on highest likes–are considered to have negative sentiment. All of the comments on the media have similar patterns to respond to the issue. As a result, almost half of the comments are classified as having negative sentiments.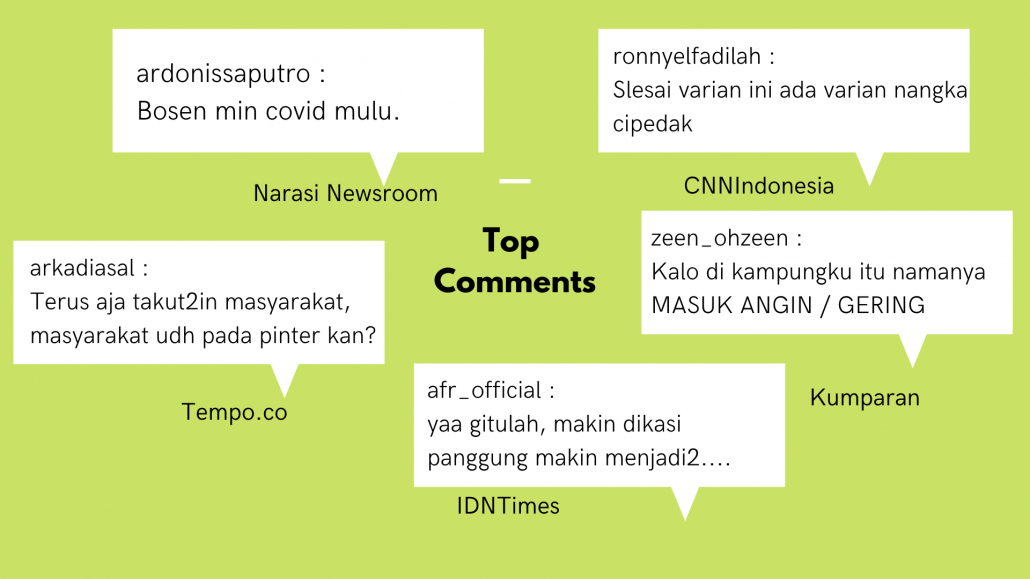 These comments with negative sentiments can be classified into 3 types: claiming COVID-19 as hoax, arguing that it is a diversion from politics, and malicious comment towards the media as the one who promotes COVID-19. Meanwhile, the comments with neutral sentiment, having the second highest total count, are mostly joking about the COVID-19 variants. Therefore, the research will focus on identifying the negative and neutral sentiment to find how they could disturb the content.
1. Conspiracy Theories Believer
Many of the users attacking the comment section claimed that COVID-19 was just a conspiracy. This type of comments can be found in each of the five posts. Posted during the 2021 UEFA Champions League, the conspiracy believers were using the crowds in the event to support their argument. They believe COVID-19 is a hoax and COVID-19 variants are not more than a fairy tale.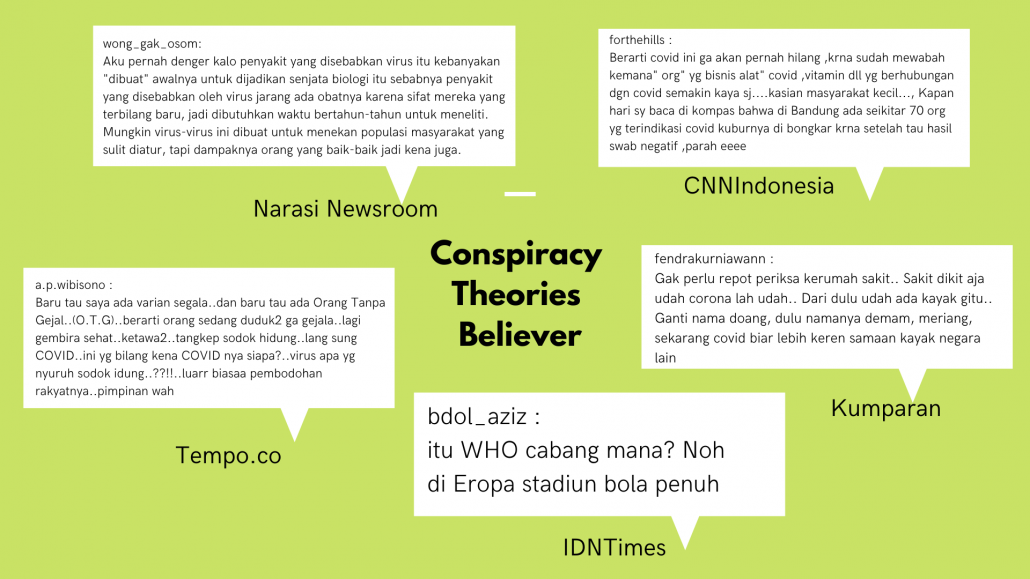 2. COVID-19 is a Government Political Tool
The users who comment on every media post tend to blame the government for failing to manage the economy, election, corruption, or Hajj. For them, COVID-19 issues are not as serious as the other government failures. Rather than talking about the COVID variants, they chose to talk about government conditions. These opinions could lead people to be out of focus and forget the COVID-19 issue just to criticize the way the government works.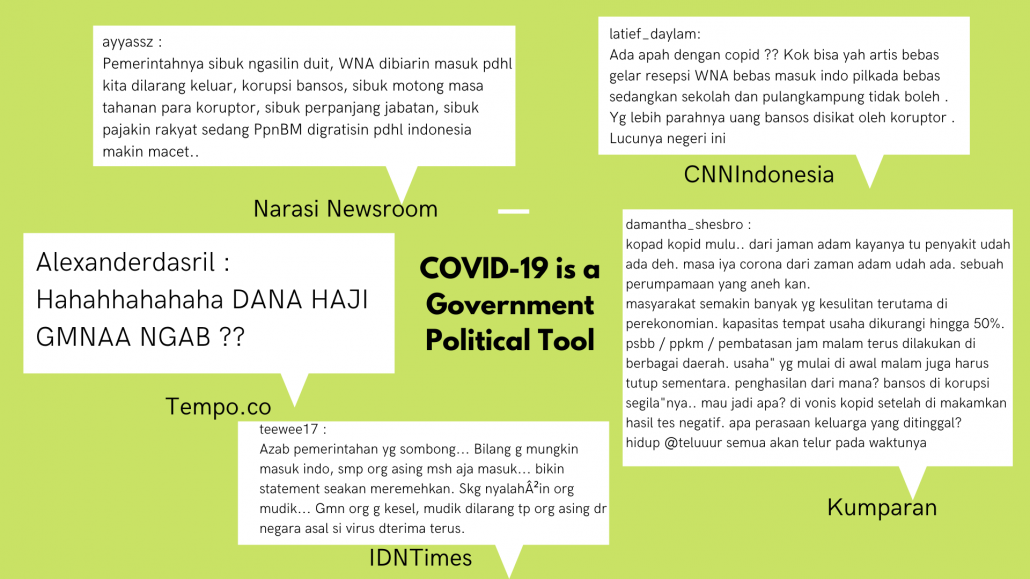 3. Against COVID-19 News
Most of the users who are against COVID-19 said the media has become "tools" to "promote" COVID-19. Other users wrote that news about COVID-19 was just boring and they had enough to hear about the update. Related to some people who believe COVID-19 just a government political tool, many believe pandemics are just media tools to divert the issue of government failure. These findings tell us how people start avoiding important updates about COVID-19.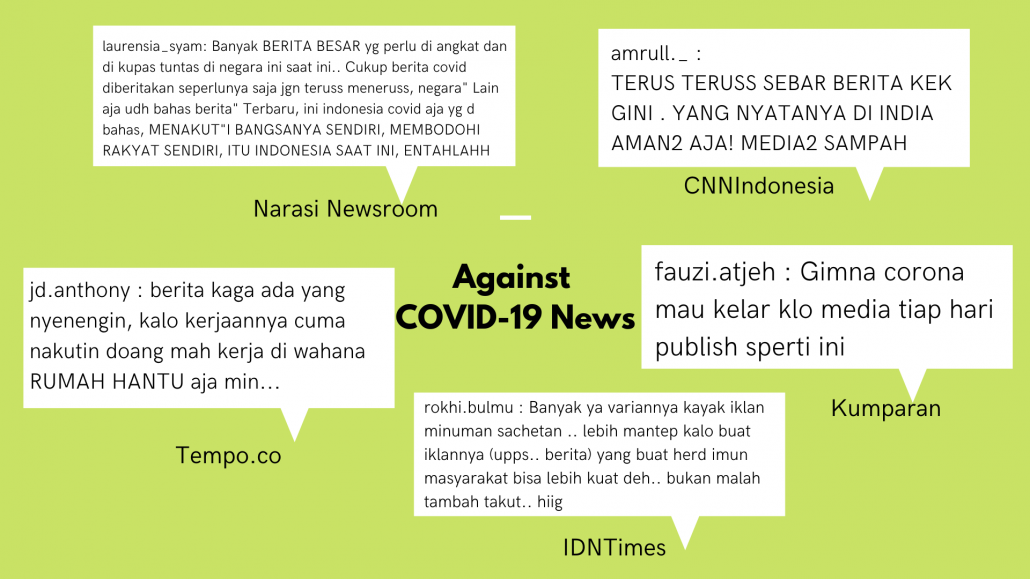 4. COVID-19 Variants Are Just a New Joke
The last type of users are the ones who made jokes about COVID-19 variants. Most of them refer to the COVID-19 variants as 'Pop Ice' (an instant drink which has many different flavors) and anime figures. This might not be surprising as a response to IDNTimes, who posted a meme about COVID-19.. However, the tone of the other four contents are arguably more serious.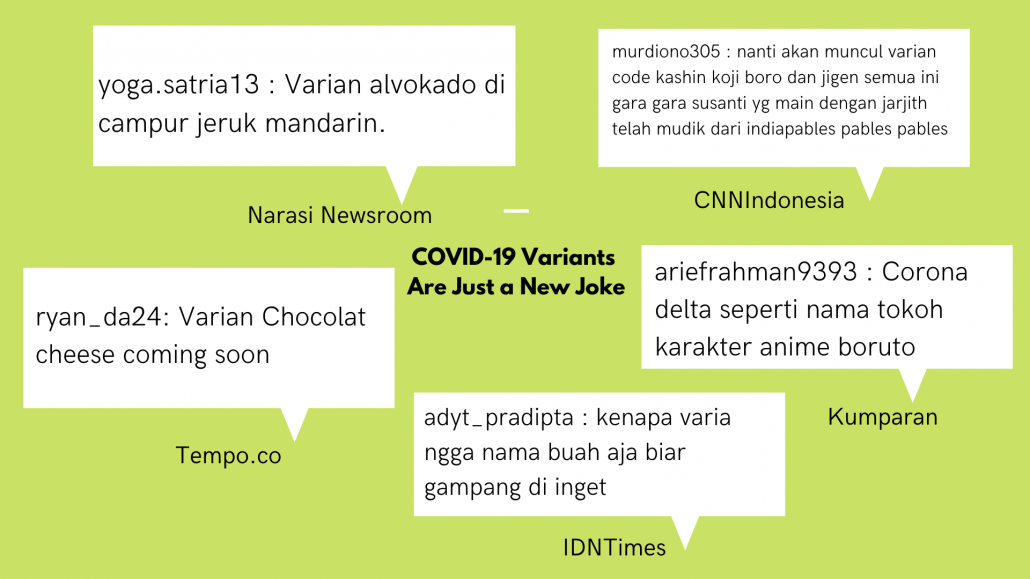 Conclusion
Mass media has an important role in spreading the information and awareness about COVID-19 variants. Looking at the big influence of Instagram, it is apparent that Instagram has become one of the main sources for information during a pandemic. However, the domination of negative comments in mass media posts could lead to misinformation. These four types of comments can have big effects on how readers engage with the information. The ultimate goal of the content can lose its meaning, causing people to neglect the facts of COVID-19 variants. Because of this, misinformation about COVID-19 cannot be prevented, leaving people feeling confused. This becomes a serious problem when battling the pandemic.
Author: Olivia Prastiti W.
Reviewer: Josia Paska Darmawan
Data collecting: Nadia Elaesiana
---
Bibliography
Meleo-Erwin, Z. C., Basch, C. H., Fera, J., & Arrowood, M. (2021). How did individuals on Instagram discuss COVID-19 in the month following official pandemic status? A examination of user content. Journal of Prevention & Intervention in the Community, 49(2), 110-118. DOI: 10.1080/10852352.2021.1908205
Niknam, F., Samadbeik, M., Fatehi, F., Shirdel, M., Rezazadeh, M., & Bastani, P. (2021). COVID-19 on Instagram: A Content Analysis of Selected Accounts. Health Policy and Technology, 10(1), 165-173. doi.org/10.1016/j.hlpt.2020.10.016.
Quinn, E. K., Fazel, S. S., & Peters, C. E. (2020). The Instagram Infodemic: Cobranding of Conspiracy Theories, Coronavirus Disease 2019 and Authority-Questioning Beliefs. Cyberpsychology, Behavior, and Social Networking, 00(0), 1-5. DOI: 10.1089/cyber.2020.0663