1001 Injustice Stories Behind The Hashtag of #PercumaLaporPolisi
December 11, 2021 5:43 pm || By admin
Introduction
It all started when Project Multatuli published an article titled "Tiga Anak Saya Diperkosa, Saya Lapor Polisi, Polisi Menghentikan Penyelidikan". The article reveals an experience of Lidya (a fictitious name), a mother from Luwu Timur, East Kalimantan, whose kids were raped multiple times by her ex-husband. She reported her experience to the local police, yet she noticed something was off as the investigation seemed to not be adequately done by the police. The police stopped the investigation two months after she reported with no result. Even worse, she was accused of intentionally reporting her ex-husband. Strongly assumed, this investigation was manipulated and influenced by some conflict of interest as Lidya's ex-husband is a high-positioned officer in the local government office (Rusdianto, 2021).
Not only sympathy, the article, too, had gained so much attention from the Indonesians because it turns out that the rest of Indonesians also had experienced a familiar situation when they faced the police. In most cases, the police also refused to investigate, asked money for further investigation, didn't take the problem seriously, or, worse, didn't even bother to care. Thus, to express their anger and distrust towards the police of Indonesia, Indonesians started tweeting about their experiences using the hashtag #PercumaLaporPolisi on Twitter. Days after Project Multatuli published the article, the local police announced that they would reopen the case and continue the investigation. Therefore, this article aims to see the dynamics of the mass tweeting movement done by Indonesian netizens on Twitter.
Data and Methods
The data being used in this research is primarily taken from Twitter search results based on a built query list. The following steps are performed in the data collection. First, a Twitter query was built by identifying related hashtags and setting a time frame. The final list of hashtags being used to retrieve the data is as follows:
#PercumaLaporPolisi
#PolisiSesuaiProsedur
#PolriSesuaiProsedur
As for the starting date, we didn't set one for the three hashtags to see when and by who the hashtags were first tweeted. To limit the time frame, we took the data until 30 October 2021.
Second, we scraped search results of the built query using Twint (Twitter scraping tool written in Python). The types of interactions included in these results are both direct mentions and engagements (reply to, user to mentioned user, and quote retweet, likes, and retweets included). A total of 13,763 tweets were obtained from scraping the built query within the time frame.
Result and Discussion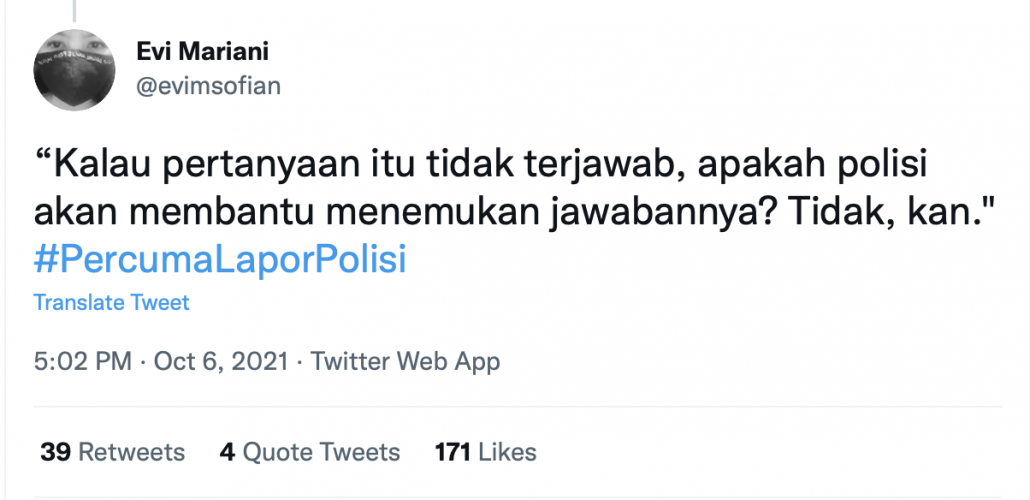 The last tweet from Evi Mariani's thread on Twitter
https://twitter.com/evimsofian/status/1445690996428210176
According to our data, on the same day of "Tiga Anak Saya Diperkosa, Saya Lapor Polisi, Polisi Menghentikan Penyelidikan" was published by Project Multatuli, the hashtag of #PercumaLaporPolisi was also first tweeted. The hashtag was tweeted on the last tweet from a thread that promotes the related article by Evi Mariani, the Co-founder and Executive Director of Project Multatuli, on 6 October 2021, at 5:02 PM WIB. On the next day, the number of tweets using the hashtag reached a total of 1,412 tweets with 168,964 as a total of engagement. We found two primary reasons for these high numbers of posts and engagement: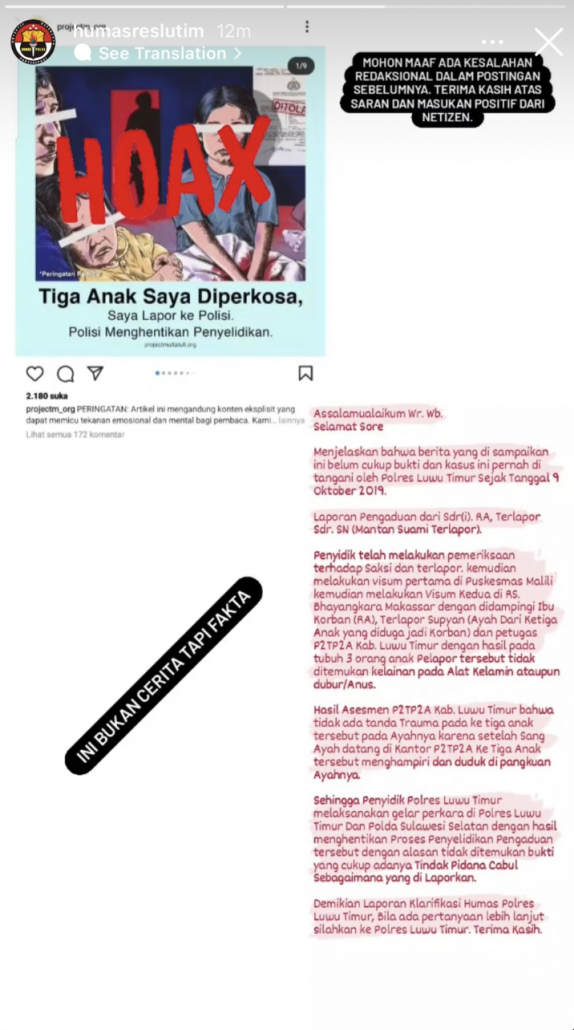 https://twitter.com/wisnu167/status/1446062907721089026
First is the response from the local police. Not long after the article was published, the Instagram account of Polres Luwu Timur (@humasreslutim) released a statement that the report was a hoax. They also mentioned that they didn't find any abnormalities in the genitals or any trauma as the kids looked comfortable being around their father based on their investigation. This upset many people, as the local police explanation was inversely proportional to the evidence that Lidya has collected. In contrast, she found so many bruises on her kids' genitals, and her kids were scared of meeting their father.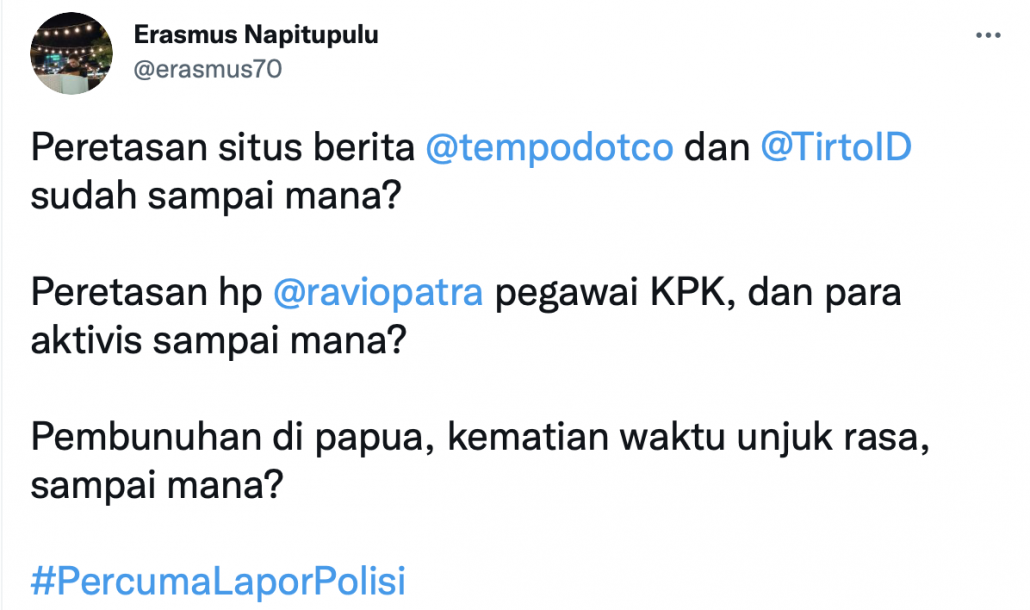 https://twitter.com/erasmus70/status/1446657175292551168
Second, approximately two hours after the article was published, Project Multatuli's website got hacked—and this was not the first time such an attack happened. A cyber attack often will follow after a sensitive content involving the state apparatus is published. Those who are recognized as the main actors, usually the activists, will be the target of the attack. It is true that there is no clarification yet from the government or the police that declares whether the cyberattacks were done by them or not, but it seems that many people choose to believe this assumption. Though it is still unclear who tried to silence Project Multatuli from advocating the issue and for what reason, it seems they have made a wrong step in doing so as this cyber attack has failed to silence anyone. Instead, Project Multatuli received a significant amount of support and help from many people in Indonesia. For the first time in history, many national media such as Kompas, Asumsi, and Vice participated in the Solidarity of Media movement. With permission from Project Multatuli, they republished the article on their site so that a larger number of people could access it.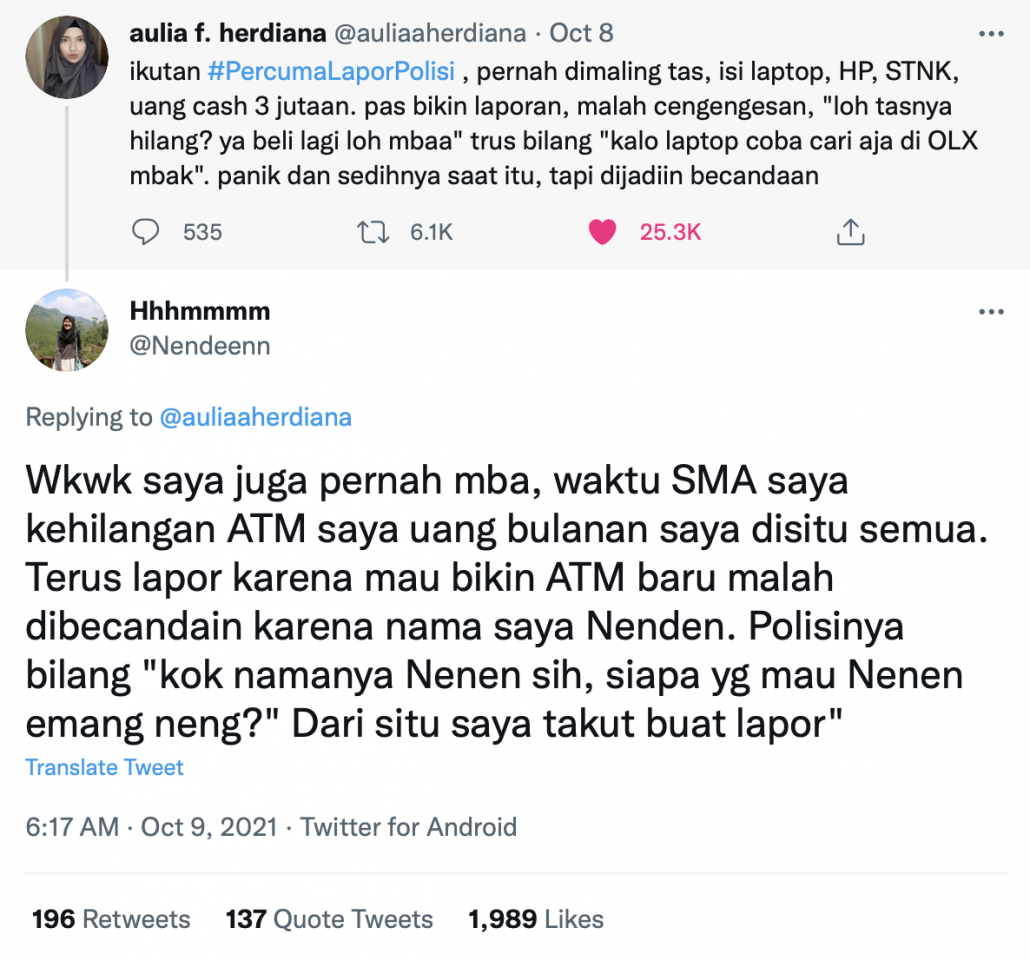 https://twitter.com/Nendeenn/status/1446615753256411137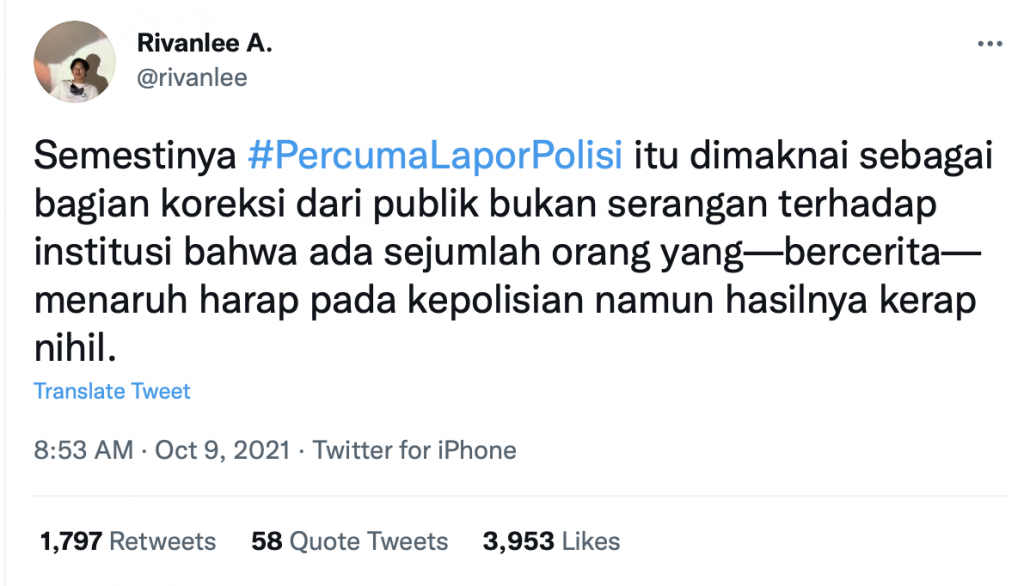 https://twitter.com/rivanlee/status/1446655028811296768
The article alone already provoked people's anger, but two major reasons above added fuel into the burning fire. The hashtag usage kept increasing, especially on 8 and 9 October 2021. There are so many criticisms directed to the National Police of Indonesia, but most of the tweets that include the hashtag are full of injustice stories experienced by Indonesians. For example, an experience shared by @auliaaherdiana whose bag with her laptop, handphone, and Rp 3.000.000 were stolen gained traction on Twitter. Instead of helping @auliaaherdiana, the local police officers made fun of her situation and recommended that she buy a new bag. It is interesting to observe Aulia's tweet as she received huge attention with 31.491 total engagement. As seen from her replies and quote tweets, many users didn't use the hashtag, but their replies still contain related context. They stated that they also had a similar experience as Aulia. One of the replies to Aulia's tweet is tweeted by @Nendeenn. Her experience was even worse because she got verbal sexual harassment from the police officers. As there are so many injustice stories shared during 7, 8, and 9 October 2021, people also started to criticize the National Police of Indonesia as an institution. One of the tweets with the highest engagement was tweeted by user @rivanlee. According to him, the National Police of Indonesia should take the thousands of injustice experiences behind the hashtag #PercumaLaporPolisi as a suggestion from the public, not perceive this as an attack on the institution.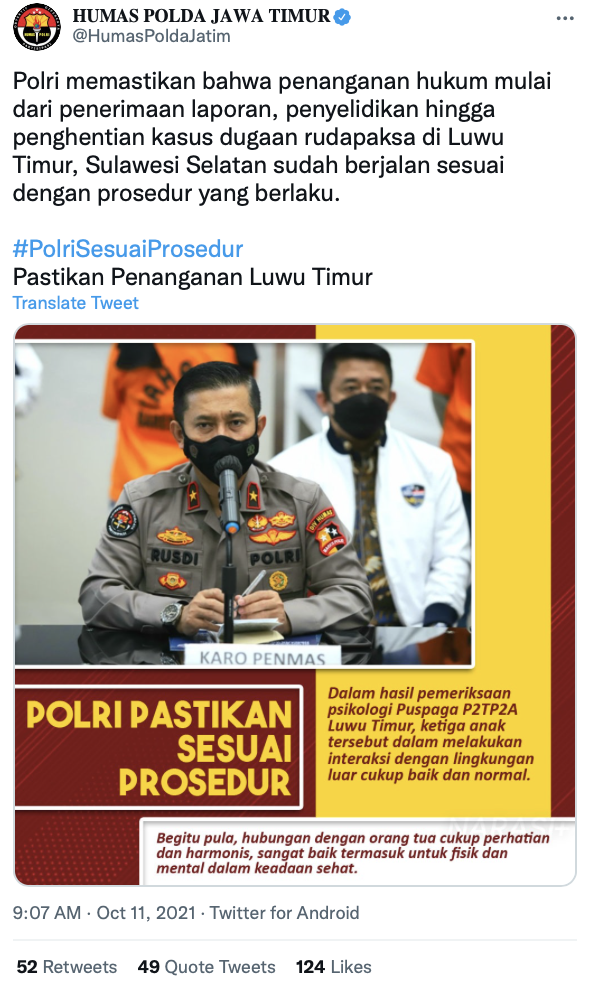 https://twitter.com/HumasPoldaJatim/status/1447383358242050062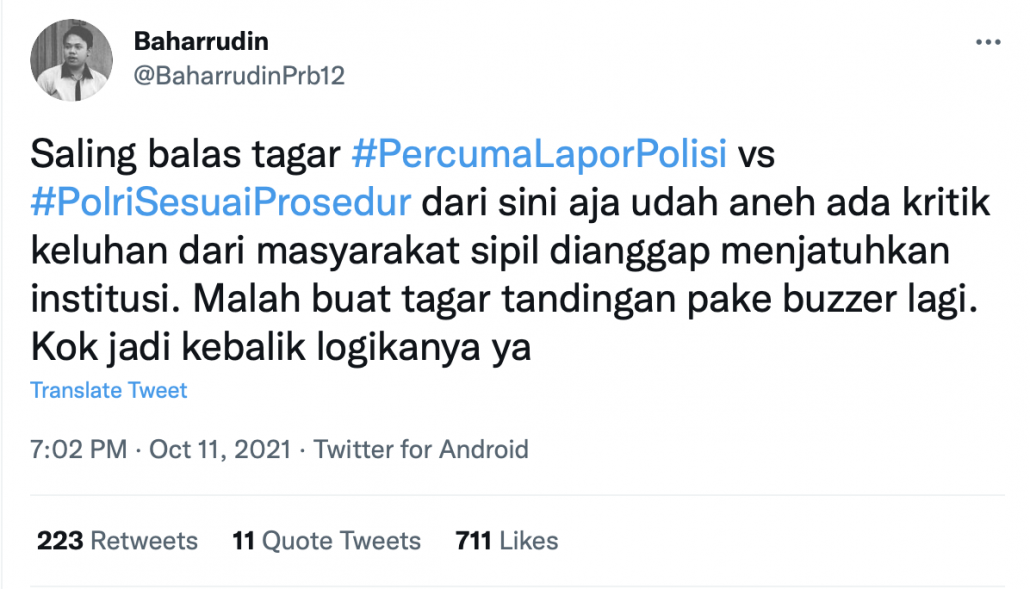 https://twitter.com/BaharrudinPrb12/status/1447533119498698757
Two new hashtags appeared on 11 October 2021 as a counternarrative against the first hashtag. #PolriSesuaiProsedur and #PolisiSesuaiProsedur were used by several local police official Twitter accounts such as @humas_kediri, @HumasPolsekWat1, @1trenggalek, @humasressumtim. According to them, the local police in Luwu Timur did the correct procedure to close the case because evidence brought by Lidya was not enough to prove her ex-husband wrong. The hashtag then became a trending topic on Twitter instantly. But the hashtag occupying the trending topic was not a win for the National Police of Indonesia because many users were using the hashtags to criticize them, saying their action is complete nonsense. What makes the hashtags more interesting is that two days after both first appeared on Twitter, the hashtags were widely used again on 13 October. This time, it wasn't tweeted by local police Twitter accounts but by the public.
Another event also occurred. On 13 October 2021, police brutality happened during a protest done by university students in Tangerang, Banten, Indonesia, where NP, a police officer, body slammed MFA, a student protester. This action proves nothing but the incompetence of the National Police of Indonesia as NP's action is considered as an unnecessary use of force and violence. Again, this provoked the public's anger. As seen from the graph above, there was an increase in the usage of all three hashtags on 13 October 2021, especially #PolisiSesuaiProsedur, which increased significantly. According to our data, many users used the hashtags to question or to satirize The National Police of Indonesia regarding what they mean by the procedure because obviously, police brutality is not how the procedure is supposed to be. After both events went viral on Twitter due to the public demand to manage both cases seriously, The National Police of Indonesia, along with local police from Luwu Timur and Tangerang, finally took some actions. They sent an assistance team to reinvestigate the "Tiga Anak Saya Diperkosa, Saya Lapor Polisi, Polisi Menghentikan Penyelidikan" case in Luwu Timur They also released a statement of apology to MFA. They would take firm action towards NP for his wrongdoings as his act didn't follow the appropriate procedure.
https://twitter.com/AksiLangsung/status/1448191482125422593
Conclusion
This momentum is still going on. Many reports brought by victims of many kinds of violence to the police station are still being ignored by those who have the actual responsibility to keep the victim safe and sound. But things will automatically change when it goes viral on social media. The case of Tiga Anak Saya Diperkosa, Saya Lapor Polisi, Polisi Menghentikan Penyelidikan was stopped unreasonably by the local police back then in 2019. But when Project Multatuli published the report in 2021, and it successfully went viral for days, The National Police of Indonesia was finally willing to reopen and re-investigate the case. It is ironic that it only took the police a few days after the case went viral to finally take some actions regarding the case. There are at least two points that we can conclude from this research. First, Twitter once again proves to us that social media is a powerful platform where the public can intervene and change the status quo by aggregating voices through mass tweeting to demand and force the targeted party. Second, The National Police of Indonesia is only willing to process reported cases based on its virality on the social media; and it proves nothing but their incompetence, irresponsibility, and ignorance as seen from the hashtag of #PercumaLaporPolisi that contains 1001 injustice stories experienced by the public.
Author: Zakiah Fadhila
Editor: Josia Paska Darmawan
Data collecting: Nadia Elaesiana