[PRESS RELEASE] Digital Expert Talk #7 Fair Work for Gig Workers with University of Manchester, Fairwork Foundation, and Oxford University
December 15, 2021 11:29 am || By admin
Yogyakarta, 13 December 2021 – The gig economy in Indonesia has emerged as a modern employment practice, the mechanism being the completion of work in a short time via digital platforms. Despite its existence that can help national economic growth, its practice is still full of unsafe and unfair working conditions. Responding to this phenomenon, CfDS collaborated with the Fairwork Foundation, Oxford University, and the University of Manchester to release a research report entitled Rating Platform Economy Indonesia 2021: Decent and Fair Work for Gig Workers, together with Yuli Adiratna as the speaker (Director of Manpower Inspection of the Indonesian Ministry of Manpower), Taha Syafaril (Online Drivers Association), and Treviliana Eka Putri (Fairwork Indonesia). This activity is broadcast live through Facebook (http://ugm.id/liveDET7FB) and Youtube (http://ugm.id/liveDET7)
UGM CfDS Promoted Adequate Labor Protection and Standards for Gig Workers
The research team found that many gig workers still have low wages and poor working conditions. The research uncovered that six major gig economy platforms in Indonesia (Gojek, Grab, Maxim, Anteraja, Ninja Xpress, and Paxel) still have a relatively low score in worker welfare. Grab and Gojek as ride-hailing service platforms stand at the top with a score of 5 out of 10. In the logistics industry, Paxel had a 3 out of 10. In addition, the study discovered that other companies, such as Maxim, Anteraja, and Ninja Xpress, failed to meet minimum decent work standards.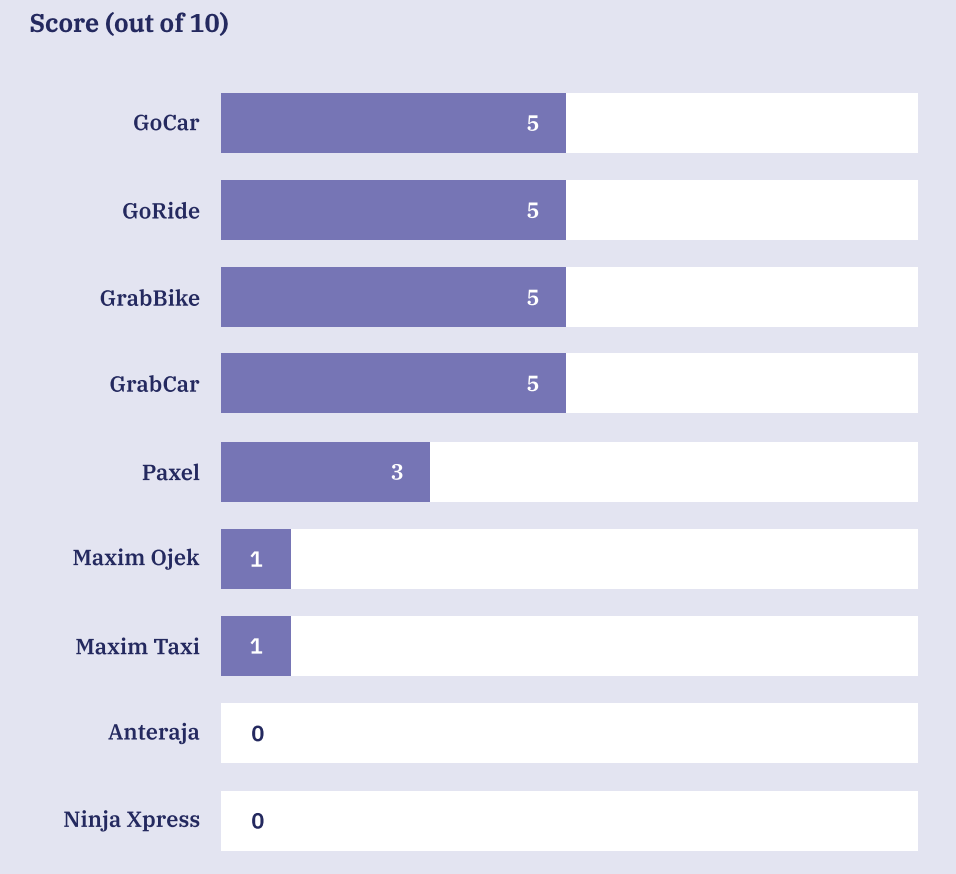 The lead researcher, Treviliana Eka Putri, stated, "In this first-of-its-kind research conducted in Indonesia, platforms have not yet fully succeeded in ascertaining the eligibility of decent wages for workers. Unfortunately, this is also coupled with an unbalanced burden of responsibility between the platform and the workers."
In this study, the Fairwork Indonesia Team assessed digital platforms based on five decent work principles and gave each company a value from zero to ten. This study saw that most digital platforms failed to meet basic standards of fairness when compared to Fairwork principles, including:
Fair Pay – None of the six platforms could assure that workers would earn at least the regional minimum wage after work-related costs.
Fair Condition – Three of the six platforms (Gojek, Grab, Paxel) provide adequate protection from task-related risks in their daily work.
Fair Contract – Four of the six platforms (Gojek, Grab, Paxel, Maxim) provided clear and accessible proof of contracts or terms of service. However, no platform could prove these terms and conditions, such as risks and obligations, shared equitably between the workers (partners/Mitra) and the platform.
Fair Management – ​​Only two of the six platforms (Gojek & Grab) have a formal process where workers could appeal the decisions made by the platform.
Fair Representation – A workers' association exist but was not formally recognized either in the Act or by the platform. Therefore, no platform shows a policy that recognizes the existence of formal legal representation of workers' representatives.
CfDS UGM aims to voice the importance of protection and more decent labor standards on the Indonesian economic platform through this study. For example, this research found that an online motorcycle taxi driver must work more than 12 hours a day to achieve a decent level of income that matches the standard of living. In addition, female gig drivers also experience discrimination and are vulnerable to sexual harassment by customers. Therefore, the role of digital platforms is needed to address these problems. One example of a policy implemented is providing options for women workers to focus on food delivery services, package delivery, and not ride-hailing services.
In response to this, Yuli Adiratna, as the Director of Labor Norms Inspection of the Indonesian Ministry of Manpower, stated that "Online or gig workers are required to get employment protection because they also have the same rights as other workers. So actually, drivers can be categorized as workers based on Manpower Act because workers are all people who work and receive wages/rewards in other forms."
As part of the representative of the Online Driver Association (ADO), Taha Syafaril gave his input that "The gig economy cannot run with Indonesia current regulations, the platform has become a company that takes big profits & throws risk allocation to partners (Mitra/drivers). Which means that the government must make regulations to correct the injustice immediately."
The results of this research report can be accessed via: https://fair.work/en/fw/publications/fairwork-indonesia-ratings-2021-labour-standards-in-the-gig-economy/