[PRESS RELEASE] Establishing Trusted, Safe, and Secure Free Flow of Data in the Digital Economy | DET #11
June 21, 2022 10:12 am || By admin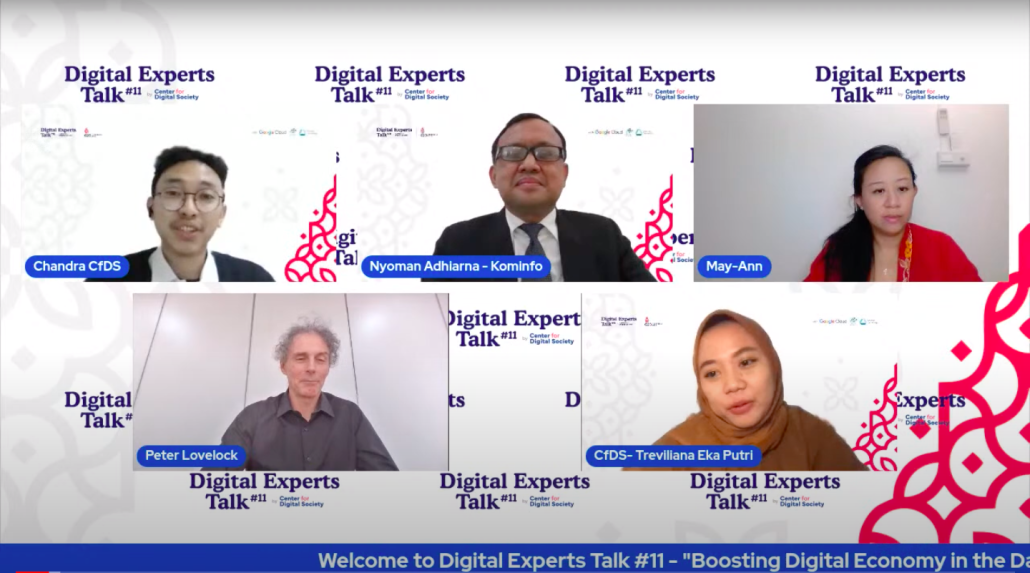 Yogyakarta, June 10th 2022 – The digital economy is one of the concerns raised at the G20 Summit, which will be held on 15-16 November 2022. This is reflected in the holding of the Digital Economy Working Group (DEWG). As a research center which engaged closely in digital society issues, the Center for Digital Society (CfDS) Universitas Gadjah Mada held an event titled Digital Expert Talk #11: Boosting Digital Economy in the Data-Driven Age as one of the supporting events for DEWG activities for the G20 Summit. The event is held online via YouTube Livestream and Facebook Live (https://www.youtube.com/watch?v=Gddaxdv8H1g).
The G20 event as a big discussion forum opens the opportunity for stakeholders to discuss the issue of boosting the digital economy while paying attention to the development of circulating data at the same time. Peter Lovelock as Principal, Fair Tech Policy, Access Partnership, opened the discussion by raising the main concern that the session sought to answer, specifically on how the actors can nurture data-driven opportunities and innovation in a safe and secure manner to enable digital economic growth.
I Nyoman Adhiarna as the Head Committee of DEWG stated that the cross-border flow of personal data is an issue that poses a challenge for the government. "When it comes to data, we can't take an extreme approach. We must be able to find an optimal balance between domestic economic development, public policy interests, and integrate it with the global digital ecosystem," he said.
Continuing Nyoman's statement, Lim May-Ann as Emeritus Director of the Asia Cloud Computing Association (ACCA) also stated, "Regarding the development of a secure flow of personal data in the digital economy sector, I think the weakest link lies in consumers and digital literacy." According to her, there are several things that should be considered in building and boosting the digital economy in the data-driven age. For example, policy makers must understand the technicalities before making a policy, agreement, or standard. It is intended that technical matters can be well integrated into the policies made. Besides, stakeholders must understand the importance of trust, identity, and verification. Currently, there are many bilaterals, trilaterals, and sector-specific agreements. When we have a trust system, efforts to boost digitalization will be more robust and widespread.
It is undeniable that there are still various challenges in efforts to boost the digital economy in the data-driven age. However, instead of focusing on challenges, the most important thing is how actors can participate in resolving these concerns. Currently, various initiatives in efforts to increase human resources have begun to be seen. Treviliana Eka Putri, researcher at CfDS, added, "There have been several initiatives from the government, academicians, NGOs, as well as CSOs. For me, these collaborative actions are critically needed. I am very happy to witness that more interdisciplinary initiatives are coming up in recent years."
In the end, data has become a very important part of the digital economy. Therefore, discussion of data is unavoidable. Instead, interdisciplinary discussions and forums between stakeholders are needed to establish a trusted, safe, and secure free flow of data which leads to an increase in an inclusive digital economy environment.
Author: Aridiva Firdharizki
Editor: Firya Qurratu'ain Abisono