[PRESS RELEASE] KOMINFO RI, CfDS UGM, & Google Indonesia Encourage Interdisciplinary Initiatives to Boost the National Digital Economy | DET #11
July 8, 2022 10:38 pm || By admin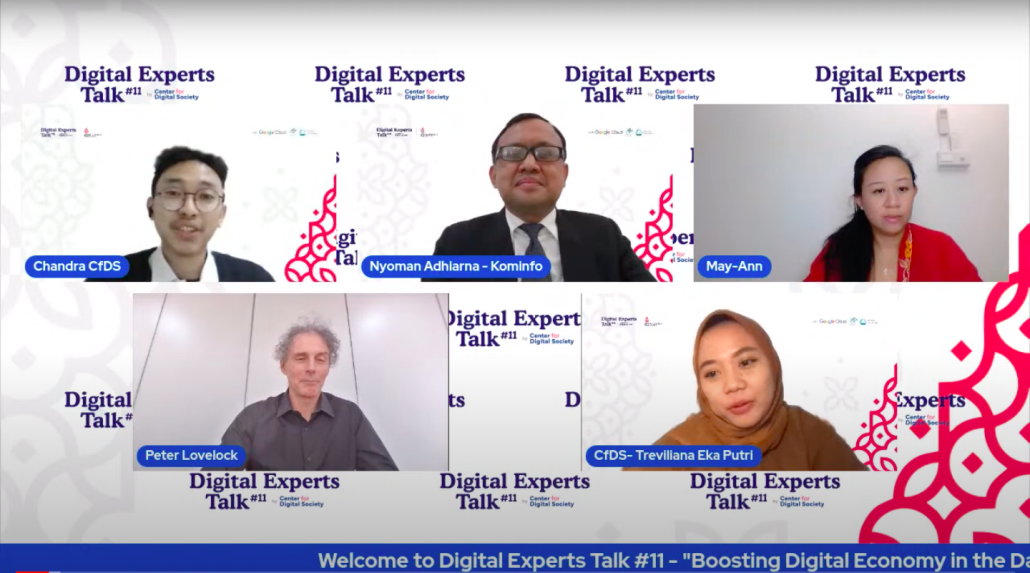 Now, micro, small and medium enterprises (MSMEs) are predicted to be the backbone of the Indonesian economy. Seeing this opportunity, the Ministry of Communication and Information of the Republic of Indonesia (Kominfo RI) and CfDS UGM support various initiatives to increase MSMEs' participation in the digital economy sector.
I Nyoman Adhiarna, the chief executive of the Kominfo RI's Digital Economic Working Group (DEWG), said that the digital economy in Indonesia was experiencing significant development in recent years. The development of the digital economy cannot be separated from the role of MSMEs in it. According to Nyoman, the number of MSMEs in Indonesia has reached 54 million. With such a large number, MSMEs significantly contribute to the country's Gross Domestic Product (GDP) and provide vast employment opportunities for the people of Indonesia.
Nyoman added, "The digital economy sector in Indonesia has increased in recent years. By the end of this year, e-commerce transactions will reach around US$ 36 billion. Now, internet penetration in Indonesia has reached 73.7%. This is a fairly large number. With this number, we hope to realize faster digital economic growth in the future."
In line with the statement, CfDS, with the support of Google Indonesia, seeks to find a middle way in building interdisciplinary collaboration between the government, academia, and the private sector to provide a superior digital infrastructure. One of them is through community capacity-building activities. This effort aligns with the government's vision to encourage digitalization efforts for 30 million MSMEs. Furthermore, considering the role of MSMEs as critical actors in the economic sector, the digitalization effort aims to improve economic recovery after COVID-19.
Continuing Nyoman's explanation, Treviliana Eka Putri, a researcher from CfDS, agreed that MSMEs have and will significantly contribute to Indonesia's economic recovery after the COVID-19 pandemic. However, the condition of using digital technology by MSMEs still requires improvement. Based on the data obtained, the use of technology by MSMEs can be divided into three levels. At the first level, MSMEs can use digital technology in a simple way, for example, through mobile phones and Microsoft Office – currently, most MSMEs are still included in the first level. At the middle level, MSMEs began to use technology in the form of social media and e-commerce to improve product marketing. Meanwhile, at the advanced level, MSMEs can use big data analysis to increase production and marketing – only 10% of MSMEs are located at the advanced level.
"When we want to help MSMEs by increasing their participation in the digital economy sector and presenting more opportunities, we must first assess the current situation of MSMEs," said Trevi.
According to her, there are three things behind the delay of MSMEs in utilizing digital technology. First, there is a lack of understanding of MSMEs regarding the potential benefits of using digital technology. Most MSMEs are still trapped in their comfort zone, so they are reluctant to follow the development of existing technology. Second, there are infrastructure costs, especially for MSMEs in remote areas. Third, there are risks that MSMEs are concerned about when they want to take advantage of digital technology, such as cyber security issues and digital fraud.
Although several things must be resolved, Trevi appreciates the various initiatives by various stakeholders, from the government to the private sector. For example, the Ministry of Communication and Information Technology has presented a digital talent program to accelerate human resources. Google also launched a loan program worth US$ 2 million for developing MSMEs in Indonesia.
"Instead of putting numbers as the main goal, we need to pay attention to how we can provide capacity building to MSMEs. To increase human resources and digital talent in the digital economy sector, collaborative action from stakeholders is needed. In addition, one of our homework is to mainstream various existing initiatives," concluded Trevi.