[PRESS RELEASE] Kemenkes, Kominfo, CfDS & Google Encourage the Optimization and the Efficiency of Digital Public Service in Indonesia | Digital Experts Talk #15
September 14, 2022 6:03 pm || By admin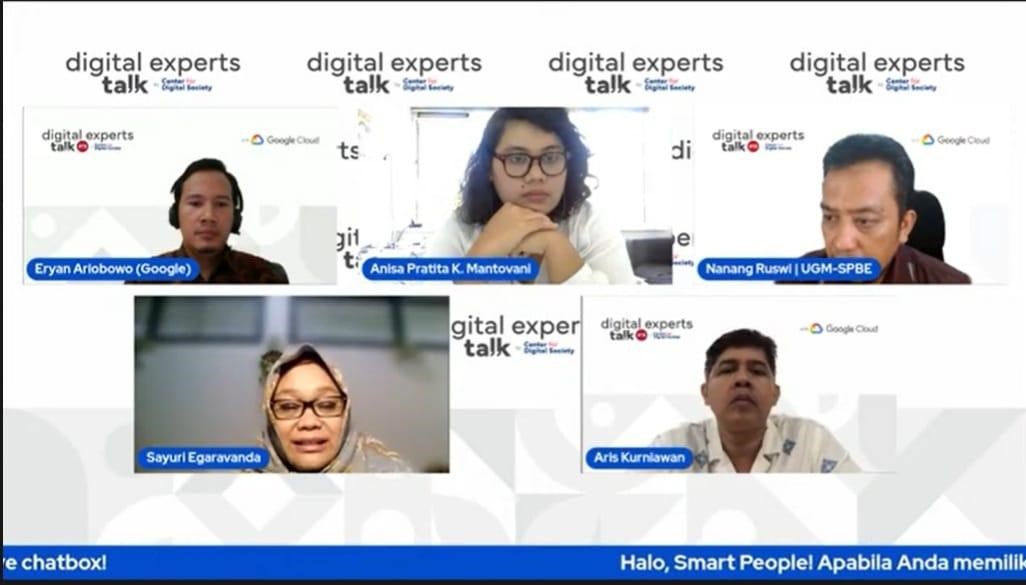 The use of e-government in Indonesia is still not well-implemented. This is due to various inhibiting factors as well as the challenges that occur in our society. In collaboration with Google Cloud Indonesia, Center for Digital Society (CfDS) responded to this issue through Digital Experts Talk #15 entitled "Managing Electronic-Based Public Services during Pandemic". This event invited reputable speakers, there are Aris Kurniawan (Head of the Innovation Team for Development, Harmonization of Services and Applications for SPBE), Setiaji S.T. (Chief of DTO Indonesia's Ministry of Health), Dr. Sayuri Egaravanda, S.Kom., M.Eng (Jogja Smart Province Team), Nanang Ruswianto (Coordinator of the UGM SPBE Evaluator Team), and Eryan Ariobowo (Customer Solutions Consultant at Google Cloud Public Indonesia), Tuesday (30/08).
Aris Kurniawan shared the explanation about the quality of the electronic-based government system (referred to as SPBE) has been already in the best position. Although it is not the best, all parties know what they are doing in order to achieve the common goal. He said that even though it was quite promising, the Indonesia Minister of Communication still has some homework to do in enhancing the quality of public services (e.g. norms and regulations issues). "Regulation and norms are very important to be discussed because those will be the 'base' for us in achieving SPBE." Furthermore, "We will continue to conduct quality tests and control to improve the efficiency of e-government in Indonesia," Aris continued.
In response to Aris, another example of enhancing the quality of electronic-based public services in the health industry has been carried out by Setiaji by leading Digital Transformation Office (DTO) team. During the pandemic, Setiaji and the team launched an application named PeduliLindungi, the Covid-19 Vaccination One Data Information System, and ISOMAN Telemedicine. Working alongside the Ministry of Health, DTO's responsibility is to become an adaptive, dynamic, and integrated system that would be useful for Indonesian society. "Hence, we are expected to be able to create an electronic-based health service ecosystem serving effectiveness, sustainability, efficiency, accountability, interoperability, and security for all users," Setiaji explained.
Moving on to the sector of city planning, the Government of D.I. Yogyakarta has also applied a digital-based management system with the slogan of "Jogja Smart Province". Sayuri Egaravanda explained that there are five values underlying this idea namely Smart Governance, Smart Living, Smart Culture, Smart Environment, and Smart Society, as a form of applying SPBE.
Nanang Ruswianto also mentioned the digital work patterns in the operations of Ibu Kota Nusantara in 2024 which will be more advanced with the support of the use of Big Data and Artificial Intelligence. However, he emphasized several aspects that he considered important in the implementation of SPBE, such as the use of digital infrastructure, as well as increasing digital literacy. "People have started boosting their digital literacy these days, let's hope that people are supporting the implementation of Smart Government and Smart City," Nanang said.
As a closing statement, Eryan said the support of cloud computing could be a potential for the evolution of SPBE in Indonesia. He further explained that Cloud Computing is a technology providing computing services, including storage space, databases, networking, and software through digital spaces. "Google Cloud is one of the technologies that could encourage the advancement SPBE. Cloud computing serves high-quality resources, privacy and security management that has been monitored with international standards, as well as the affordability in its cost," Eryan stated.
The excitement of the event can be re-watched through this link: https://youtu.be/3lW0NjUR3hA
Writer: I Komang Restu Adi M. Surta
About Center for Digital Society (CfDS) UGM
Center for Digital Society (CfDS) UGM is a research center located at the Faculty of Social and Political Sciences, Universitas Gadjah Mada. Through research and public discussions, CfDS provides a means of educating the public regarding the impact of technology on various aspects of life, such as social, political, and economic aspects. Digital Expert Talk is one of the UGM CfDS talk show sessions that invite different leading practitioners, industry, government, and academic experts to share their knowledge and experiences related to digital issues related to today's society.