Kominfo Provides Support for the Implementation of the Virtual Meta Learning Academy
September 15, 2022 2:07 pm || By admin
Bali, September 3, 2022 – Augmented Reality (AR) is present as one of the technological innovations that can open new opportunities in the virtual space, especially for creative industry. The Ministry of Communication and Information (Kominfo) believes that the public must be prepared to face digital transformation, one of which is AR technology. In collaboration with Kominfo, Meta and Hacktiv8 launched the Meta Immersive Learning Academy (MILA).
The Center for Digital Society (CfDS) UGM supports the collaboration in launching MILA through the event entitled Muda Berkarya: Utilization of Augmented Reality (AR) in the Creative Industry & Launching of the Virtual Meta Learning Academy presenting Semuel Abrijani Pangerapan (Director General of Applications and Governance of Informatics, Kominfo RI), Bonifasius Wahyu Pudjianto (Director of Informatics Empowerment, Kominfo RI), Noudhy Valdryno (Manager Public Policy, Indonesia and Timor Leste, Meta), and Sindy Tia Ulfa (Founder of BikinFilter & Alumni of the Metavolution Program), as well as the presence of the Minister of Communications and Informatics, Johnny G. Plate in the AR learning booth at the Digital Innovation Network DEWG G20 event. This event was held offline at the Bali International Convention Center and broadcast live through the CfDS UGM YouTube channel.
The experience of using AR can increase business opportunities and quality. Representing the Minister of Communications and Informatics, Dedy Permadi as Co-Chair of DEWG G20 said that there are around 1.5 billion AR users worldwide as of 2021, and it is estimated that this will increase to 4 billion users by 2025. He believes that the use of AR in the creative industry is highly necessary for market expansion in the next few years.
Furthermore, Semuel Abrijani Pangerapan also believes that the use of AR technology by SMEs in the creative industry can help from the marketing side. He gave an example that by utilizing AR, sellers can provide an overview of their products as if they were real in the virtual world. "Thanks to AR, sellers can provide detailed product descriptions in the virtual world. Just scan and we don't have to go to the store directly, so it's very useful for marketing," said Semuel.
Agree with Semuel, Bonifasius also said that Kominfo is responsible for helping to prepare digital talents in Indonesia, "otherwise, the need for digital talent will be filled by talents from other countries," he added.
Responding to the development of AR technology and efforts to prepare digital talent in Indonesia, Noudhy Valdryno revealed that the Virtual Meta Learning Academy will prepare its participants in the field of Extended Reality (XR), a combination of AR and VR (Virtual Reality). "We are committed to increasing Indonesia's digital talents so that they can compete with other countries at the global level, not only as a market but also as a player," he said.
Sindy Tia Ulfa, an alumnus of the Metavolution program, stated that the AR learning program was very useful for her. "We learn how to make AR filters from basic to advanced levels. Until they are led to pitch," explained Sindy. Sindy also added that she who does not have an IT background can still attend classes and develop her abilities well.
Therefore, the government strongly supports the collaboration and integration of the Meta Virtual Learning Academy program with ongoing government programs such as MSME Go Online. According to Semuel, the material in the Virtual Meta Learning Academy program can also be taught to business actors. "So, apart from learning how to onboard to the digital space through UMKM Go Online, business actors can also learn AR to make their products more interesting," said Semuel.
In line, Semuel mentored the integration of this program into other Kominfo programs. "We can combine this program with the Digital Talent Scholarship. It can also be used as material for the Digital Literacy program," he added.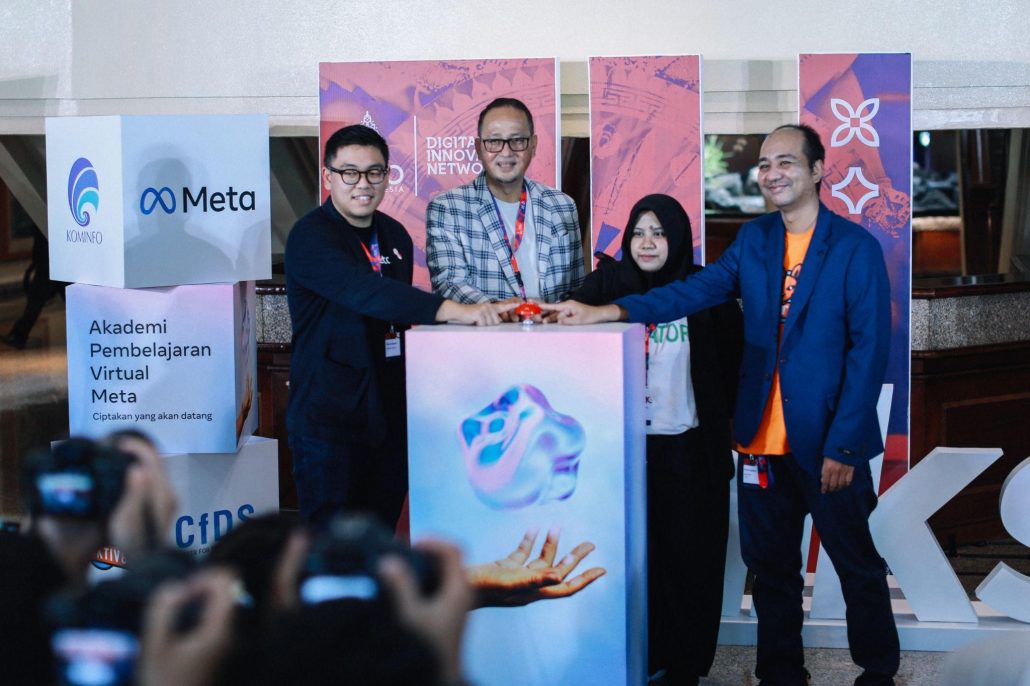 This activity can be watched again through this following link:
About Center for Digital Society (CfDS) UGM
Center for Digital Society (CfDS) UGM is a study center located at the Faculty of Social and Political Sciences, Gadjah Mada University. Through various research and public discussion events, CfDS seeks to provide a means of educating the public about literacy and the use of digital technology.