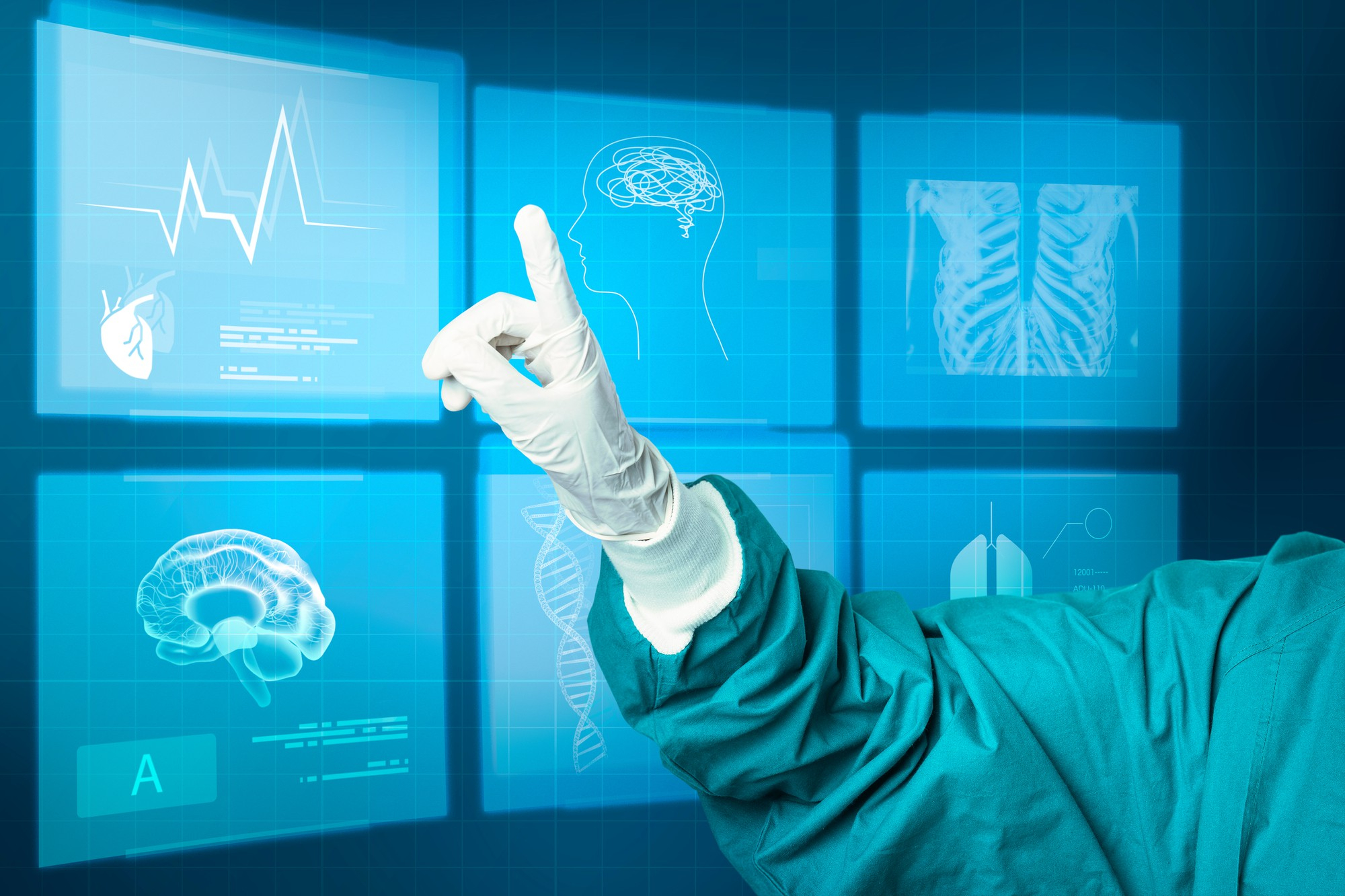 PeduliLindungi: Lessons from the Successful E-Government Platform
December 24, 2022 2:31 pm || By admin
Author: Irnasya Shafira
Editor: M Perdana Karim
Indonesia has always had a vision of a much more digitized nation. It rings true from the very first time Presidential Instruction No. 6 Year 2001 on the Development and Utilization of Telematics in Indonesia got issued 21 years ago to the issuing of Circular Letter of Minister of State Apparatus Utilization and Bureaucratic Reform No. 8 Year 2022 on the Involvement of Government Bodies and Local Developers on Preparation of Learning Content and Media which speaks about the development of electronic-based public services applications this year. At a global level, Indonesia is also a strong advocate of digital transformation, even going as far as making it one of the core discussions during its G20 Presidency[i].
In the last 21 years, Indonesia has seen the ups and downs of e-Government development. Kurniawan, Head of Innovation, Development, and Harmonization of Services and Electronic-based Government System[ii] of the Ministry of Communication and Informatics, has confirmed that we are in a better position now than we were 5-10 years ago. Athough, there are several challenges that needed to be addressed then and is still relevant now, such as ego-sectoral tendencies or the lack of coordination across government bodies, overlapping of authorities, duplication of programs, lengthy decision-making that is less data-driven, complicated procedures, and lack of transparency and governance. Kurniawan also noted that these problems, while still relevant, have seen great progress in the last two decades, with the regulation process being updated frequently up until August 2022.[iii]
This writer believes that turning the e-Government dream into reality remains a challenge because it involves multiple stakeholders with different sets of priorities. Despite the challenges, Indonesia has a success story of its own in digitizing its public healthcare services during the COVID-19 pandemic,  in the form of the Ministry of Health's own e-Government app: Peduli Lindungi.
Peduli Lindungi started as a track-and-trace type of app to help the government detect the COVID-19 spread in Indonesia. Since then, the app has seen numerous updates both within the app and the regulations surrounding the utilization of this app. Nowadays, Peduli Lindungi has three main functions: 1) screening of users who are entering public facilities; 2) checking health status, including vaccination status and COVID-19 testing results; and 3) backtracking of previously-infected people to monitor the growth of virus spread. Peduli Lindungi is basically a mandatory app for citizens to access public facilities since it is basically an all-in-one pandemic-related super health app.[iv]
Indonesia has a large number of e-Government applications totaling up to 400,000 apps, with approximately 24,000 apps run by different government bodies and 2,700 separate data centers. This has been noted as a major issue by the Minister of Finance Sri Mulyani since these apps cost a lot and yet are not interoperable.[v] Peduli Lindungi stands out as a success story since it is the first massively utilized e-Government app that has high interoperability with other government and non-governmental apps.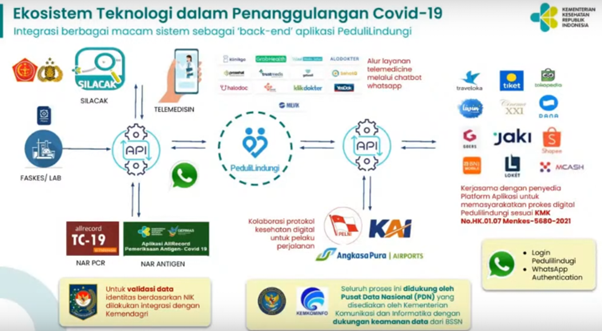 The ecosystem surrounding Peduli Lindungi allows for multiple services—such as telemedicine, traveler tracking, COVID-19 testing results, vaccinations, and screening to enter public facilities—to be done with a single app. This highly interoperable app has reached fantastical numbers of users, having more than 100,000,000 users with 8,000,000 daily active users. On the health monitoring side, more than 1.5 million new users are noted in the Vaccination System daily, along with more than 400,000 users' lab results registered daily.[vi]
Setiaji, Chief Digital Transformation of Officer of Ministry of Health, explained the lessons the Ministry has learned from the development of digital health products[vii]:
Stakeholder alignment in all processes is necessary so the developed system can stay relevant and true to its objective;
The product development cycle should continuously take into consideration users' feedback;
The development process is done with continuous iteration and updates to be able to arrive at the best product; and
Quick and dynamic product development agile enough to keep up with the COVID-19 pandemic handling.
Setiaji also confidently explained that when the pandemic is over, the Peduli Lindungi app will be transformed into an Indonesia Health Services Platform titled Satu Sehat, which will function as a highly personalized citizen health app. This future app will push for data interoperability across Indonesia's health sector ecosystem and provide standardized specifications and mechanisms for its operation. Currently, there are 41 hospitals involved in alpha testing and 31 health companies involved in beta testing this app.
The writer believes that the lessons learned by the developer of Peduli Lindungi can be applied across all sectors within the Indonesian government. Stakeholder alignment and agile product development cycles that are quick and dynamic enough to keep up with the current needs of Indonesian people will certainly increase efficiency, transparency, and citizen participation as envisioned in the definition of e-Government itself. Lastly, the writer would like to close this commentary with a hopeful sentiment that after 21 years of its e-Government development saga, Indonesia finally has a success story in one of its apps. PeduliLindungi may have risen due to the unfortunate COVID-19 pandemic, but it is no doubt a great starting point for bringing Indonesia's e-Government dream to reality.
---
[i] Indonesia Ministry of Foreign Affairs. 2022. Nilai Strategis Transformasi Digital dalam Misi Pulih Bersama Presidensi G20 Indonesia [online] available at https://kemlu.go.id/portal/id/read/3469/berita/nilai-strategis-transformasi-digital-dalam-misi-pulih-bersama-presidensi-g20-indonesia
[ii] Electronic-based Government System or in Indonesian Sistem Pemerintahan Berbasis Elektronik (SPBE) is Indonesia's interpretation of Electronic Government or E-government. The definition of e-Government here is the application of Information and Communication Technologies (ICTs) to government functions and procedures with the purpose of increasing efficiency, transparency and citizen participation (Organization of American States, available here: http://portal.oas.org/portal/sector/sap/departamentoparalagesti%C3%B3np%C3%BAblicaefectiva/npa/sobreprogramadeegobierno/tabid/811/default.aspx?language=en-us).
This writer's understanding is that Indonesia, through the use of various applications (both mobile and web based), aims to create an integrative and efficient public service system hence the name. This writing will use the term e-Government to adhere to a much more known concept instead of Indonesia's specialized interpretation.
[iii] These statements are made in a discussion titled "Managing Electronic-based Public Services Amidst Pandemic" between government bodies (Ministry of Communication and Informatics, Ministry of Health, and Yogyakarta Regional Government's Smart Province Team), academia (Coordinator of Gadjah Mada University's e-Government Evaluation Team), and private sector (Customer Solutions Consultant of Google Cloud Public Sector) held by Center for Digital Society. This discussion is available here: https://www.youtube.com/watch?v=3lW0NjUR3hA
[iv] Directorate General of Informatics Application Ministry of Communication and Informatics Indonesia. 2021. Kupas Tuntas Aplikasi PeduliLindungi [online] available at: https://aptika.kominfo.go.id/2021/10/kupas-tuntas-aplikasi-pedulilindungi/
[v] Merdeka.com. 2022. Pemerintah Punya 400.000 Aplikasi, Pakai Banyak Anggaran [online] available at: https://www.merdeka.com/uang/pemerintah-punya-400000-aplikasi-pakai-banyak-anggaran.html
[vi] Ibid "Managing Electronic-based Public Services Amidst Pandemic" discussion
[vii] Setiaji, in the "Managing Electronic-based Public Services Amidst Pandemic" discussion, mentioned that the Ministry of Health refers to their apps (PeduliLindungi and other health service-related apps) as products. So, by product, this writing means 'app'.