[Call for Commentary] Promoting Digital Literacy through Constructive Defending Behavior
March 8, 2023 3:34 pm || By admin
Author: Olyn Silvania
Editor: M Perdana Karim
Cyberbullying is a type of aggression that always occurs (24 hours/7 days) because social interactions are now conducted online [i]. In response to the problem, the Indonesian government issued Undang-Undang No. 11 for 2008 on Information and Electronic Transactions (ITE) to prevent future cyberbullying and deter perpetrators. Nevertheless, cyberbullying prevention still requires strategy and various parties' involvement, considering cyberbullying is more complex to track than traditional bullying. In the aftermath, authorities like the police and law enforcers face difficulties controlling and noticing what happened in cyberspace. Therefore, the involvement of bystanders or cyberbullying witnesses is urgently needed. This is because bystanders are the majority group in cyberbullying [ii], so their role can affect cyberbullying [iii], whether it can weaken or strengthen cyberbullying [iv].
However, according to DeSmet et al., most bystanders prefer to be passive (55,1%) rather than defend cyberbullying victims (48,7%). Why does this happen? Lack of knowledge and skill to protect the victim is one of the answers, which makes the bystander hesitant and even embarrassed to intervene in a cyberbullying situation. The issue highlighted the significance of education as a pillar in preventing and reducing cyberbullying and increasing bystanders' confidence and responsibility to defend victims. Educating bystanders on how to protect victims constructively is one of the ways.
Constructive defending behaviour can easily be understood as an assertive attitude to defend and protect the victim. There are various ways to do it, such as telling and admonishing the perpetrator, asking the perpetrator to apologise, reporting the perpetrator to authorities, comforting the victim, and advising the victim on how to face cyberbullying. Furthermore, constructive defending behaviour related to digital literacy is an individual's ability to use internet facilities to identify, evaluate, and communicate information to others [v]. This is because constructive defending behaviour involves bystanders' active involvement and critical attitude towards cyberbullying incidents. Based on it, the writer argues that constructive defending behaviour can promote better individual, group, and society digital literacy.
Recently, the writer took an interest in "The Murder of Brigadier Nofriansyah Yosua Hutabarat (also known as Brigadier J)" case, especially when Komisi Perlindungan Anak Indonesia (KPAI) asked the public not to bully the children of the former head of internal affairs of the Indonesian National Police, Ferdy Sambo, and his wife, Putri Candrawathi. Their children are not guilty and probably didn't know about the murder plan. Therefore, KPAI states it is unfair if the children get a social witness [vi]. People responded positively to KPAI's appeal, which was announced on social media. Several social media users, as shown in the comments below, express their agreement with KPAI's appeal and support for Ferdy Sambo's children:
Social Media User's Comment in @buddykuofficial's post [vii]: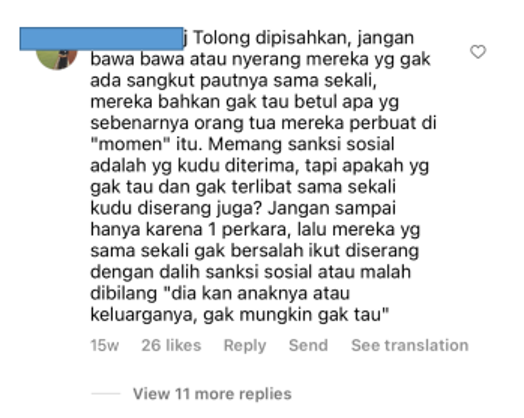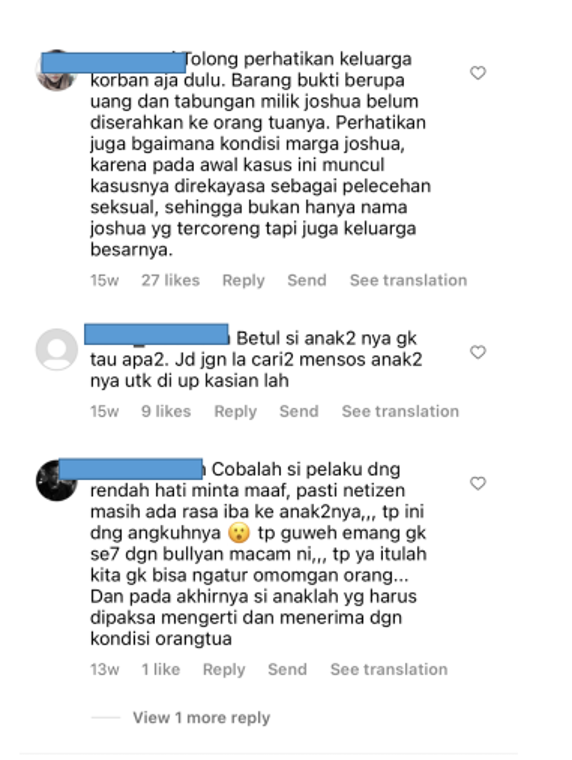 Social Media User's Comments on YouTube News titled, "Soal Anak-Anak Ferdy Sambo, Ketua KPAI: Siapapun Orang Tuanya, Harus Dipastikan Perlindungannya" [viii]:


Several positive comments above showed social media users' attempts to defend victims constructively. Indeed, it will have a positive impact on digital literacy because of the following reasons:
Increase Social Media Users' Knowledge Regarding Wise Ways To Face Cyberbullying
Research conducted by the Center of Digital Society titled Digitimes #35: Teenager-Related Cyberbullying Case in Indonesia [ix] recommends the importance of social media users always spreading knowledge and awareness that cyberbullying is an unacceptable action and brings negative consequences. This will undoubtedly be more optimal if accompanied constructively. Specifically, constructive defending behaviour showed the existence of communication ethics in which bystanders advise and reprimand the perpetrator using polite language. So, they no longer fight each other. Using non-aggressive language represents good social skills, encouraging bystanders to engage in positive behaviour on social media [x].
On the other hand, constructive defending behaviour by bystanders toward victims, like consoling, advising, and giving recommendations about reachable contact when bullied [xi], also contribute to increasing digital literacy among social media users. This is because constructive defending behaviour can enrich insight into how to empathize with the victim and help align different opinions and misunderstandings. Thus, constructive defending behaviour contributes to increasing knowledge about effective strategies to deal with cyberbullying.
Minimise the Negative Impact of Cyberbullying On Victims
Besides consoling, advising, and giving recommendations to victims, constructive defending behaviour can also be done by bystanders by explaining to the victim several reasons the perpetrator bullied them, such as because he is trying to cover up his weaknesses. This education can undoubtedly improve the victim's digital literacy in identifying the cyberbullying situation in which they are involved [xii]. Aside from identification, bystander support positively impacts the victim's psychology, such as increasing resilience and self-esteem [xiii]. This, of course, can minimize the negative impact of cyberbullying on victims, such as mental health disorders (depression, anxiety, and post-traumatic stress disorder), low self-confidence, self-isolation, and thoughts of committing suicide [xiv].
Increase Social Connectedness Among Social Media Users
Providing education regarding effective strategies for dealing with cyberbullying to bystanders can increase the ability of social media users to empathize with the victim's condition. Empathy is an aspect of digital literacy. Empathy can move social media users, especially those concerned with cyberbullying issues, to take real action, such as joining and building anti-cyberbullying communities and spreading anti-cyberbullying campaign content.
Help Clarify the Cyberbullying Situation
The way people report to the authorities demonstrates constructive defending behaviour on social media. Warnings to perpetrators can identify dangerous situations in cyberbullying, making it easier for authorities such as police and law enforcement to follow up on perpetrators. Bystanders can file complaints about cyberbullying through the KOMINFO-facilitated website https://aduankonten.id.
The writer believes constructive defending behaviour is a small but significant contribution to digital literacy development. By engaging in constructive defence, bystanders indirectly help to prevent the spread of cyberbullying and educate people who do not yet understand how to deal with cyberbullying. What must be remembered is that digital literacy education must be carried out consistently and broadly, with individuals actively participating.
---
[i] Sarmiento, A., Herrera-López, M. and Zych, I. (2019). Is cyberbullying a group process? Online and offline bystanders of cyberbullying act as defenders, reinforcers and outsiders. Computers in Human Behavior, 99, pp.328-334.
[ii] DeSmet, A., Bastiaensens, S., Van Cleemput, K., Poels, K., Vandebosch, H., Cardon, G. and De Bourdeaudhuij, I. (2016). Deciding whether to look after them, to like it, or leave it: A multidimensional analysis of predictors of positive and negative bystander behavior in cyberbullying among adolescents. Computers in Human Behavior, 57, pp.398-415.
[iii] Moxey, N. and Bussey, K. (2020). Styles of bystander intervention in cyberbullying incidents. International Journal of Bullying Prevention, 2, pp.6-15.
[iv] Rizkyanti, C.A., Cahyani, A.H., Salsabilla, S. and Aulia, A. (2021). Empati dan peran bystander dalam cyberbullying: Family communication pattern sebagai mediator. Jurnal Psikohumanika, 13(2), pp.10-24.
[v] Martin, A. (2005). A European framework for digital literacy: A progress report. Journal of ELiteracy, 2, pp 130–136
[vi] Catherine, R. N. (2022). KPAI: Stop bullying terhadap anak-anak Ferdy Sambo. [online]. Available at: https://nasional.kompas.com/read/2022/08/21/20174261/kpal-stop-bullying-terhadap-anak-anak-ferdy-sambo-dan-putri [Accessed 27 Feb. 2023].
[vii]  https://www.instagram.com/buddykuofficial 
[viii] https://www.youtube.com/watch?v=GO5OYeNubvE
[ix] Asriani,D. D., Yulianti, K. Y., Priwati, A. R., Kirana, A. P., Darmawan, P., and Kusumaningtyas, A. P. (2021). Digitimes #35: Teenager-related cyberbullying case in Indonesia. [online]. Yogyakarta: Center for Digital Society, p. 15. Availabe at: https://cfds.fisipol.ugm.ac.id/id/2021/09/09/35-cfds-digitimes-teenager-related-cyberbullying-case-in-indonesia-2/ [Accessed 27 Feb. 2023]
[x] Simão, A.M., Costa Ferreira, P., Pereira, N., Oliveira, S., Paulino, P., Rosa, H., Ribeiro, R., Coheur, L., Carvalho, J.P. and Trancoso, I., (2021). Prosociality in cyberspace: Developing emotion and behavioral regulation to decrease aggressive communication. Cognitive Computation, 13(3), pp.736-750.
[xi] Shultz, E., Heilman, R. and Hart, K.J., 2014. Cyber-bullying: An exploration of bystander behavior and motivation. Cyberpsychology, 8(4).
[xii] Priwati, A.R. and Helmi, A.F., 2021. The manifestations of digital literacy in social media among Indonesian youth. Humanitas, 18(1), pp.14 – 23.
[xiii] Erreygers, S., Vandebosch, H., Vranjes, I., Baillien, E. and De Witte, H., 2018. Development of a measure of adolescents' online prosocial behavior. Journal of Children and Media, 12(4), pp.448-464.
[xiv] Rastati, R. (2016). Bentuk perundungan siber di media sosial dan pencegahannya bagi korban dan pelaku. Jurnal Sosioteknologi, 15(2), pp. 169- 186.
---