[PRESS RELEASE] MINDTERA: A SOLUTION TO SUSTAINABLE PRODUCTIVITY AND EMPLOYEE WELFARE | DECISION #2
May 3, 2023 11:11 am || By admin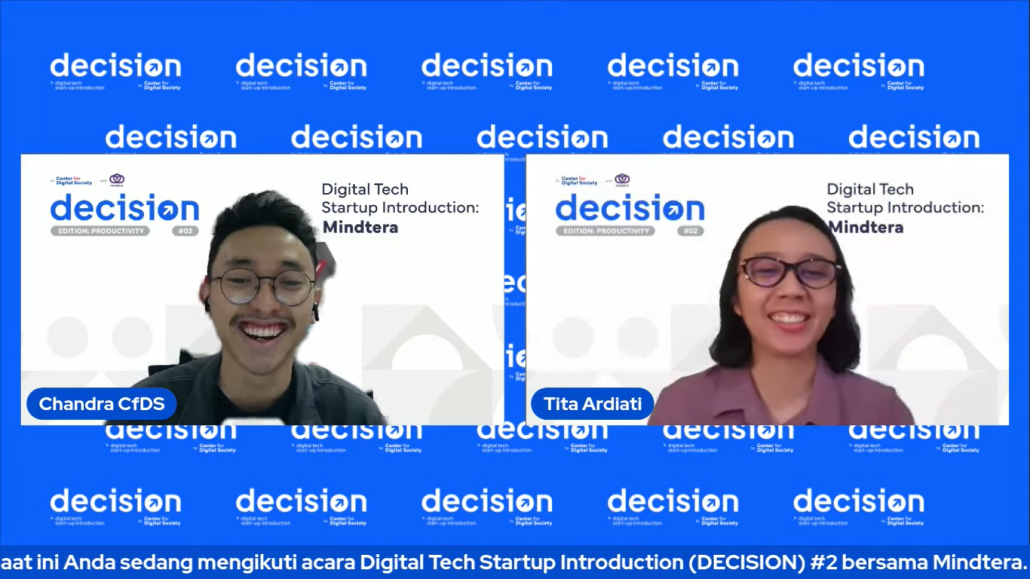 YouTube Channel CfDS, April 13th, 2023 – According to a study conducted by the International Labor Organization (ILO) in 2022, employee well-being significantly impacts work productivity. However, in the same year, approximately 60% of nearly 15,000 workers in 15 countries experienced at least one mental health issue. In response to this, the Center for Digital Society invited Mindtera, a productivity-focused startup, to share its story in the second instalment of the Digital Tech Startup Introduction (Decision) CfDS UGM series. The event was attended by Tita Ardiati, CEO of Mindtera, and moderated by Archandra Viryasatya Sugama, Community Outreach Staff of CfDS. Decision #2 can be accessed  via the link https://www.youtube.com/watch?v=2Kln3msdvXE.
The event discussed the importance of employee well-being and its relationship with productivity. Tita Ardiati, CEO of Mindtera, began her presentation by discussing the results of the ILO study. Tita also noted that in Indonesia, employee well-being is improving in some aspects. However, most companies in Indonesia still lag in terms of attention to mental health and employee flexibility compared to other Asian countries.
Mindtera is a technology-based EAP consulting firm that strives to be at the forefront of supporting clients to create a happy work environment through the implementation of the SDGs. Mindtera offers a platform that allows companies to measure employee well-being and provide solutions that meet the needs of each employee. Mindtera's philosophy is to help Indonesia prepare a workforce that is ready to face a dynamic work environment in the future. Through its services, Mindtera seeks to maximize manpower efficiency, workforce productivity, and the good well-being of workers in Indonesia.
To complete its services, Mindtera provides facilities in the form of an employee assistance program. The program includes MindIndex (measurement of employee behavior), MindCoaching (optimization of the emotional and social quotient of workers), and MindTools (module for the emotional and social quotient of workers' optimization).
Furthermore, Tita also spoke about Mindtera's experience in helping companies improve employee well-being and productivity. "Companies need to pay attention to employee well-being in order to improve productivity and create a healthy work environment," said Tita.
Through this second episode of the Decision series, Tita elaborated on the various solutions offered by Mindtera, the benefits for companies using the Mindtera platform, and how companies can pay attention to employee well-being during the pandemic. Mindtera also reaffirmed its commitment to helping companies improve employee well-being and productivity with its technology. Tita envisioned that the solutions offered by Mindtera could help companies create a healthy and sustainable work environment.
Writer : Allysa Putri Rendry
Editor : Nadya Olga Aletha